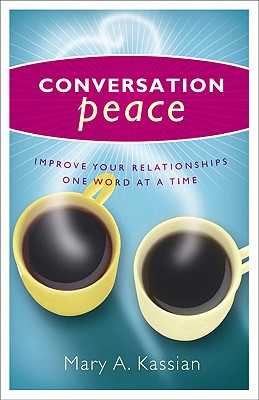 Conversation Peace (Paperback)
Improving Your Relationships One Word at a Time
B&H Books, 9780805430813, 272pp.
Publication Date: May 1, 2004
* Individual store prices may vary.
Description
Have you ever left a conversation feeling like shredded wheat? Stuck your foot in your mouth? Been at a loss for words? Had difficulty getting your point across? Or been talked into doing something you didn't want to do? Do you find it difficult to connect with others? Do you suspect that your speech patterns are hindering your relationships? Maybe you need some Conversation Peace!Let Mary Kassian teach you the seven powerful speech-transforming elements to master the skill of effective communications. You will also strengthen your vocabulary with Words from the Word. Conversation Peace will help you revolutionize your speech habits and improve your relationships.
About the Author
Mary Kassian is an award winning author, internationally renowned speaker, and a distinguished professor at Southern Baptist Seminary. She has published several books, Bible studies and videos, including: In My Father's House: Finding Your Heart's True Home, Conversation Peace, Vertically Inclined, the Feminist Mistake, and Girls Gone Wise - in a World Gone Wild. You can visit her blog at GirlsGoneWise.com. 

Mary graduated from the faculty of Rehabilitation Medicine from the University of Alberta, Canada and has studied systematic theology at the doctoral level. She has taught courses at seminaries across North America She is a popular conference speaker and has ministered to women's groups internationally. Mary has appeared on numerous radio and television shows, including Focus on the Family, Family Life Today, and Marriage Uncensored. 

Mary was born and raised in Edmonton, Canada. She and her husband, Brent, have three sons: Clark, Matthew, and Jonathan. Mary has mastered the art of cheering after spending countless hours in rinks, arenas, and gyms: her husband is chaplain for a professional football team, her two older sons play ice hockey, and her youngest, volleyball. The Kassians enjoy biking, hiking, snorkeling (when they can find some warm water!), music, board games, mountains, campfires, and their family pets: Miss Kitty and black lab, General Beau.