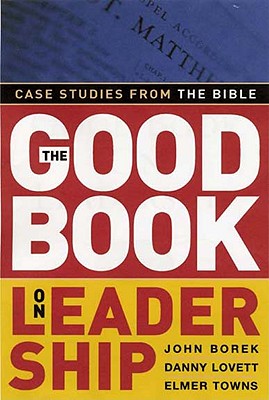 The Good Book on Leadership
Case Studies from the Bible
Paperback

* Individual store prices may vary.
Description
The Bible is full of leaders, and whether good or bad, each of their stories provide valuable insight into what is needed to be a strong leader.
The Good Book on Leadership
 examines each of these leaders individually in order to give readers a biblical model for leadership. This model is not just for pastors or those in leadership roles within the church, but also for anyone who finds themself in any poisiton of authority.
B&H Academic, 9780805431674, 276pp.
Publication Date: March 1, 2005
About the Author
John Borek
is President Emeritus of Liberty University. He holds a Ph.D. in business administration. He resides in Lynchburg, Virginia.
No one can deny the anointing of God on the life and ministry of Dr. Danny Lovett. He has become one of the leading adult and youth revivalists of our day. Coming from a dynamic ministry as senior pastor of Open Door Baptist Church in Tuscaloosa, Alabama, Dr. Lovett exploded onto the campus of Liberty University in July of 1993 with his shout, "Jesus is what? Jesus is Awesome!"
Dr. Lovett is Founder and President of Jesus Is Awesome Ministries, a ministry to pastors, churches, and associations in the United States and abroad. J.I.A. Ministries also funds scholarships for students enrolled at Tennessee Temple University and Temple Baptist Seminary which help pay the tuition for God-called men and women to pursue the education that will equip them for their ministry.
Today, Dr. Lovett serves as Co-Pastor of Highland Park Baptist Church in Chattanooga, Tennessee. His passion to train the next generation of pastors, missionaries, church workers, and evangelists inspired him to design a training ground offering hands-on experience for some of the brightest and most committed young people in America.
Danny is married to Dr. Susan Lovett, Vice-President of Academic Services at Tennessee Temple University. They have three children, Eric, Mary and Stephanie.
Elmer L. Towns
es cofundador de la Universidad Liberty en Lynchburg, Virginia, y decano de la Facultad de Estudios de Religión de dicha institución. Es autor de éxitos editoriales y ha sido galardonado con la medalla de oro de la ECPA al proclamarse como libro del año su obra titulada
The Names of the Holy Spirit
[Los nombres del Espíritu Santo].
Elmer Towns
is cofounder of Liberty University in Lynchburg, Virginia, and dean of its School of Religion. Also a best-selling author, he won an ECPA Gold Medallion Book of the Year Award for
The Names of the Holy Spirit
.