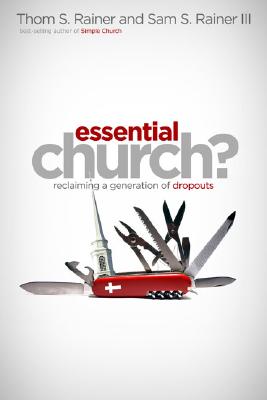 Essential Church? (Hardcover)
Reclaiming a Generation of Dropouts
B&H Books, 9780805443929, 272pp.
Publication Date: September 1, 2008
* Individual store prices may vary.
Description
Why do so many young adults (18 to 22) leave the church, and what will it take to bring them back? This important question is examined and duly answered in Essential Church?, a follow-up to Thom S. Rainer's best-selling Simple Church cowritten this time with his son, research expert Sam Rainer.
The book is based on a study of one-thousand so-called "church dropouts" who were interviewed about why they left. Their answers are quite surprising, having less to do with "losing their religion" and more about the desire for a community that isn't made stale by simply maintaining the status quo.
In turn, the Rainers offer churches four concrete solutions toward making their worship community an essential part these young people's lives again:
 Simplify - develop a clear structure and process for making disciples.
Deepen - provide strong biblical teaching and preaching.
Expect - let members know the need for commitment to the congregation.
Multiply - emphasize evangelism, outward focus, and starting new churches.
About the Author
Thom S. Rainer is the president and CEO of LifeWay Christian Resources, one of the largest Christian resource companies in the world. Also a respected pastor and researcher, he has written more than twenty books and coauthored the No. 1 best seller Simple Church. Rainer and his wife, Nellie Jo, have three grown sons, several grandchildren, and live in Nashville, Tennessee.
 
Thom S. Rainer es el presidente y director ejecutivo de LifeWay Christian Resources, una de las mayores editoriales cristianas del mundo. También es reconocido como pastor e investigador, ha escrito más de veinte libros y es coautor del reconocido best seller Iglesia simple. Rainer y su esposa, Nellie Jo, tienen tres hijos adultos, varios nietos y viven en Nashville, Tennessee, EE.UU.
Sam S. Rainer III serves the church as a senior pastor. He is a frequent speaker on church health issues. He also serves as the president and CEO of Rainer Research, coauthored Essential Church? Reclaiming a Generation of Dropouts, and writes a column for Outreach magazine. He is married to Erin.