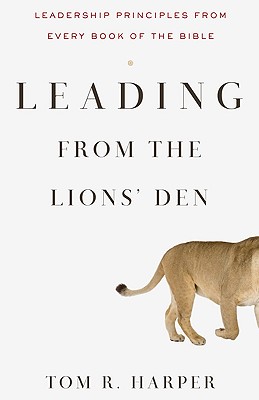 Leading from the Lions' Den (Paperback)
Leadership Principles from Every Book of the Bible
B&H Books, 9780805444421, 240pp.
Publication Date: September 1, 2010
* Individual store prices may vary.
Description
While most new leadership books proudly promote themselves as the antidote to previous thinking, Leading from the Lions' Den takes pride in drawing its wisdom from ideas that have been available for a very long time in the unchanging Word of God. Here, author Tom R. Harper expounds upon one surprising principle from each of the Bible's sixty-six books. Each concept goes toward explaining human nature, which, when understood, is the foundation of business success.
Among the lessons that will work for leaders regardless of culture, time, or place are: "Lead, Inspire and Motivate with Plain Facts" (Deuteronomy), "Defrag Your Organization by Discovering its Weak Forces" (1 Chronicles), "Fight Superior Force with Superior Character" (Nahum), "Purify Your PR by Avoiding the Spotlight" (Mark), "Help the Competition" (Romans), "Soak Your Shield Before Battle" (Ephesians), and "Obliterate Fear with a Single Weapon" (1 John).
About the Author
Tom R. Harper is founding publisher of ATMmarketplace.com, president of NetWorld Alliance, and cofounder of Church Central Associates, focusing on church consultant training and church health resources. He is also the author of Career Crossover: Leaving the Marketplace for Ministry and lives with his wife and two children in Louisville, Kentucky.
or
Not Currently Available for Direct Purchase