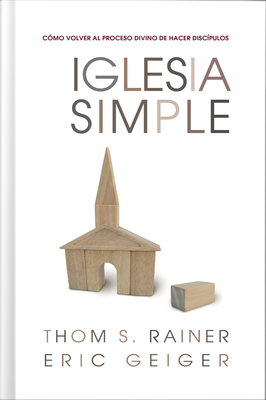 Iglesia Simple
Como volver al proceso Divino de hacer discípulos
Paperback

* Individual store prices may vary.
Description
Ya ha comenzado la revolución de lo sencillo. Las ideas sencillas están cambiando el mundo. Una prueba de ello es el diseño del reproductor de música iPod y la discreta página inicial del buscador Google en Internet.
El libro Iglesia simple convoca claramente a los cristianos a volver a los métodos sencillos de evangelización de Jesús. Por decirlo de algún modo, "sin bombos ni platillos".
Los autores, Thom Rainer y Eric Geiger, se basan en estudios de caso realizados en 400 iglesias estadounidenses para demostrar que, muy a menudo, el proceso de hacer discípulos se ha vuelto demasiado complicado.
Las iglesias simples están prosperando, y lo logran porque se toman en serio estas cuatro ideas: Claridad. Movimiento. Alineación. Enfoque. En la obra se examina cada idea para demostrar sencillamente por qué ha llegado la hora de simplificar.
Now available in Spanish!
The simple revolution has begun. From the design of the iPod to the uncluttered Google home page, simple ideas are changing the world. Simple Church clearly calls for Christians to return to the simple gospel-sharing methods of Jesus. No bells or whistles required, so to speak.
Based on case studies of four hundred American churches, authors Thom Rainer and Eric Geiger prove that the process for making disciples has quite often become too complex. Simple churches are thriving, and they are doing so by taking these four ideas to heart: Clarity. Movement. Alignment. Focus.
Each idea is examined here, simply showing why it is time to simplify.
B&H Español, 9780805444834, 272pp.
Publication Date: May 1, 2007
About the Author
Thom S. Rainer is the president and CEO of LifeWay Christian Resources, one of the largest Christian resource companies in the world. Also a respected pastor and researcher, he has written more than twenty books and coauthored the No. 1 best seller Simple Church. Rainer and his wife, Nellie Jo, have three grown sons, several grandchildren, and live in Nashville, Tennessee.
 
Thom S. Rainer es el presidente y director ejecutivo de LifeWay Christian Resources, una de las mayores editoriales cristianas del mundo. También es reconocido como pastor e investigador, ha escrito más de veinte libros y es coautor del reconocido best seller Iglesia simple. Rainer y su esposa, Nellie Jo, tienen tres hijos adultos, varios nietos y viven en Nashville, Tennessee, EE.UU.

Eric Geiger es el vice presidente de la división de Recursos Humanos de Lifeway. Recibió su doctorado en Liderazgo y Ministerio de Iglesias en el Seminario del Sur. Como pastor también enseña y es orador y asesor para misiones y estrategias de iglesias. Eric es autor y co-autor de diversos libros, incluido el éxito de ventas en libros sobre liderazgo Iglesia Simple. Vive junto a su esposa Kaye y tienen dos hijas, Eden y Evie.


Eric Geiger serves as the vice president of the Church Resource Division at LifeWay Christian Resources. Eric received his doctorate in leadership and church ministry from Southern Seminary. He is also a teaching pastor and a frequent speaker and consultant on church mission and strategy. Eric has authored or co-authored several books including the best-selling church leadership book, Simple Church. He is married to Kaye, and they have two daughters, Eden and Evie.
or
Not Currently Available for Direct Purchase