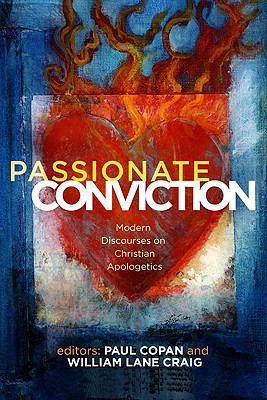 Passionate Conviction (Paperback)
Modern Discourses on Christian Apologetics
B&H Academic, 9780805445381, 288pp.
Publication Date: October 1, 2007
* Individual store prices may vary.
Description
Is your heart on fire for God?
Passionate Conviction brings together the most popular and heart-stirring presentations in defense of Christianity from the annual fall conference on apologetics held in association with the Evangelical Philosophical Society, the C. S. Lewis Institute, and the Christian Apologetics program at Biola University.
Applicable to pastors, serious-minded lay people, and university and high school students, these twenty essays are grouped into six dynamic categories: (1) Why Apologetics? (2) God (3) Jesus (4) Comparative Religions (5) Postmodernism and Relativism (6) Practical Application. Among the greatly respected contributors are J. P. Moreland ("Has the American Church Lost Her Mind?), N. T. Wright ("The Resurrection of Jesus as an Event of History"), Francis J. Beckwith ("Is Morality Relative?"), Sean McDowell ("Apologetics for a New Generation"), and Gary Habermas ("Dealing with Doubt").
About the Author
Paul Copan is the Pledger Family Chair of Philosophy and Ethics at Palm Beach Atlantic University in West Palm Beach, Florida. He holds a Ph.D. in Philosophy from Marquette University.
William Lane Craig is research professor of Philosophy at Talbot School of Theology in La Mirada, California. His Ph.D. in Philosophy is from the University of Birmingham in the United Kingdom.
Charles L. Quarles (Ph.D., Mid-America Baptist Theological Seminary) is professor of New Testament and Biblical Theology at Southeastern Baptist Theological Seminary. He is coauthor of The Cradle, the Cross, and the Crown: An Introduction to the New Testament (with Andreas Köstenberger and Scott Kellum) and The Sermon on the Mount: Restoring Christ's Message to the Modern Church.