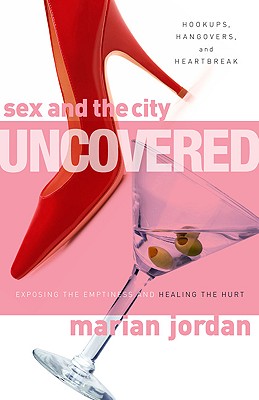 Sex and the City Uncovered: Exposing the Emptiness and Healing the Hurt (Paperback)
Exposing the Emptiness and Healing the Hurt
B&H Books, 9780805446692, 208pp.
Publication Date: September 1, 2007
* Individual store prices may vary.
or
Not Currently Available for Direct Purchase
Description
Hookups, hangovers, and heartbreak

Popular TV series Sex and the City features four stylish New York women frequenting bars and talking bluntly about their broad range of sexual experiences. Awards lavished on the show suggest some redeeming values. But despite claims that it's ultimately about the longing for a committed relationship, the glamorization of casual sex and so on can really mess with impressionable young women.

Just ask Marian Jordan. In Sex and the City Uncovered she admits, "A painful existence of 'looking for love in all the wrong places' is hidden behind images of couture fashion, witty dialogue, and beautiful people. I know this to be true because I've lived it."

Sharing her own storied past, Marian now celebrates an unfailing love she has found and helps struggling singles find this same joy by answering questions such as:
- Why can't I have sex without regret or desiring commitment?
- Why do I need alcohol or food to make me feel better?
- Why do I go into debt to buy the latest designer items?
- Why don't I feel good about myself around other women?
Endorsements
"An honest, engaging, and hopeful response to the dating dilemma. A must-read for every searching single " --Louie Giglio, director of Passion Conferences
"Marian does a fabulous job of exposing culture-generated lies about the endless pursuit of love and worth in a language that will resonate with young women today." --Vicki Courtney, best-selling author and founder of Virtuous Reality Ministries
"Marian's transparency and insights will be life-changing to women." --Cliff Young, lead vocalist, Caedmon's Call
About the Author
Marian Jordan is the founder of Redeemed Girl Ministries, showing girls of all ages how to apply God's truth and promises to their individual circumstances. She lives in Houston and is finishing her master's degree at Southwestern Seminary.
Advertisement