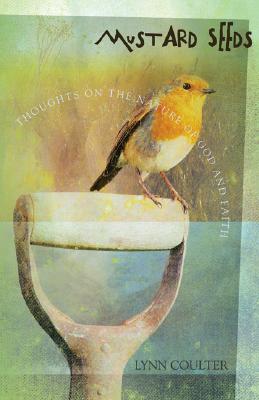 Mustard Seeds: Thoughts on the Nature of God and Faith (Paperback)
Thoughts on the Nature of God and Faith
B&H Publishing Group, 9780805446784, 179pp.
Publication Date: September 1, 2008
* Individual store prices may vary.
or
Not Currently Available for Direct Purchase
Description
C.S. Lewis likened hard times to "God's megaphone," a season when the Creator's ways are made clear and proven merciful. Mustard Seeds author Lynn Coulter agrees, writing here across fifteen essays about the natural graces and "God signs" that emerged during a three-year period of hardship and sustain her faith today.
From personal events (her parents' deaths, a job loss) to universal cripplers (stress, worry), Coulter's fresh anecdotes unearth the little daily markers of God's love and care while staying rooted in Scripture. Her writings fuse the observational strength of Anne Lamott's nonfiction with the warm delivery of Sue Monk Kidd's devotional books and are sure to be passed around as tools of encouragement and faith strengthening among friends.
Chapters include "Used People," "Deep Healing," and "Nothing without Joy."
Endorsements
Starred review. Coulter, a magazine journalist, takes the familiar biblical story of faith the size of a mustard seed to illustrate how God can use even the most horrendous "lifequakes" as faith-builders. Coulter opens her compilation of life essays with a personal story from her childhood, when the concept of mustard seed faith was first planted after a teacher offered the class mustard seed charms as an attendance reward. Though Coulter eventually lost the charm, she never forgot its message. Years later, after the death of her parents, her husband's job loss, financial setbacks, and her own shattered shoulder, the author's faith was in pieces. She wrestled long and hard to regain closeness with God. In each of these tender topical chapters, Coulter uses everyday happenings from nature, parenting, work, illnesses, and church to reaffirm a single lesson: God is intimately involved in every aspect of life and he cares with a watchful affection. Readers will find strength from Coulter's story and solace in God's promises regarding faith and grace.
--Publishers Weekly
"Reading Mustard Seeds feels like time spent conversing with a dear old friend over a cup of coffee. Lynn's honest story of how she renewed her faith in Jesus will be a blessing and a source of encouragement."
--Mickey McLean, Web Managing Editor, WORLD Magazine
"A sensitive, thoughtful book, filled with new beginnings, hope, and the wonder and beauty of the search for God."
--Amy Blackmarr, author of Going to Ground: Simple Life on a Georgia Pond
About the Author
Lynn Coulter has written about spirituality, travel, books, nature, and gardening for Sky, Family Circle, and Southern Living magazines as well as The Weather Channel, Lionel Trains, and the Atlanta Journal-Constitution. She has also received literature grants from the Georgia Council for the Arts and the Society of Children's Book Writers and Illustrators. Lynn graduated summa cum laude with a degree in Journalism from Georgia State University and now lives with her family near Atlanta.
Advertisement