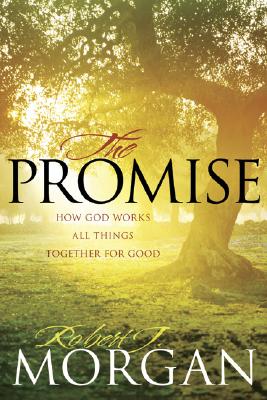 The Promise (Paperback)
How God Works All Things Together for Good
B&H Books, 9780805446838, 240pp.
Publication Date: February 1, 2008
Other Editions of This Title:
Paperback (2/1/2010)
Compact Disc (2/1/2008)
* Individual store prices may vary.
Description
In The Promise, best-selling author Robert J. Morgan (Then Sings My Soul) reveals the remarkable power of a single Bible verse—Romans 8:28 ("We know that all things work together for the good of those who love God") that will give readers an unshakable basis for confidence and joy.
Filled with real-life illustrations of triumph over tragedy, The Promise not only empowers us to deal effectively with everyday stress and strain, but offers solid assurance to anyone facing serious trouble. In his personable style, Morgan shares strong techniques for reversing misfortunes, finding purpose in painful situations, and turning discouragement into resilience.
Here is a book to use for yourself and share with others in every hour of need. Major sections of The Promise include All Things Work Together . . . : For Our Good; For the Good of Others; For the Deepening of the Soul; For the Glory of God; For the Spreading of the Gospel; In Human History; In the Cemetery; Because of Jesus.
Endorsements:
"Rob Morgan never disappoints me. His books do what a good book should do:  make you think about life from a new and fresh perspective. The Promise is a brand new treatment of an old and enduring verse. After you have finished reading it, put it where you can find it. If you don't need it, someone you love will!" -David Jeremiah, author of Signs of Life: Back to the Basics of Authentic Christianity
"For years Robert Morgan has inspired me with his pastoral insights and heartfelt storytelling. In The Promise, he celebrates the mystery and power of one of the Bible's most poignant verses. Thoughtful, inspiring, and comforting, this book will help Christians find hope and encouragement as they live out their part in God's glorious story."
—Steven James, storyteller and award-winning author of Story: Recapture the Mystery
"In The Promise Rob Morgan has put walking shoes on Romans 8:28. He has then walked it through life situations making application along the journey. With laser point accuracy he has focused our attention where it should be – on 'God' who works all things together for our good rather than on "things" that we too often dwell upon."

—Jim Mullen, managing director, Billy Graham Evangelistic Association
About the Author
Robert J. Morgan es autor de éxitos editoriales y ha sido galardonado con la medalla de oro por libros como Then Sings My Soul (Mi corazón entona la canción), The Red Sea Rules (Las reglas del Mar Rojo), The Promise (La promesa) y The Children's Daily Devotional Bible (La Biblia de devocionales diarios para niños). Se ha desempeñado como pastor de la Iglesia Donelson Fellowship de Nashville, Tennessee (EE.UU.), por tres décadas. Morgan y su esposa tienen tres hijas y diez nietos.

Robert J. Morgan is a best-selling, Gold Medallion Award-winning author whose books include Then Sings My Soul, The Red Sea Rules, and The Children's Daily Devotional Bible. He has also served as pastor of The Donelson Fellowship in Nashville, Tennessee, for three decades. Morgan and his wife have three daughters and ten grandchildren.
Praise For The Promise: How God Works All Things Together for Good…
Publishers Weekly
October 29, 2007

Morgan (Then Sings My Soul; The Children's Daily Devotional Bible) devotes his pastoral heart to the well-known New Testament verse Romans 8:28: "We know that all things work together for the good of those who love God: those who are called according to His purpose." First Morgan puts the verse in context and then dissects it phrase by phrase. He puts emphasis on the "fine print" fact that this verse isn't "for universal distribution without conditions," but is instead "only for those who meet the requirement of loving God." Morgan moves beyond this oft-quoted passage to delve into the verses that follow, spending time on issues such as predestination and justification until concluding with Paul's final words in Romans 8, "the most soaring, breathtaking poetry in all his writings." Morgan also looks closely at verses in Genesis and Ephesians that add depth and detail to the Romans passage. He sprinkles real-life examples and hymn texts throughout, creating a Bible study book that is both profound and simple, loving and firm, hopeful and helpful. We have, says Morgan, "a God-given assurance that every single circumstance will sooner or later turn out well for those fully committed to Jesus Christ." (Feb.)

February 2008
THE PROMISE: How God Works All Things Together for Good
Robert J. Morgan
B&H Publishing Group

Bestselling author Robert J. Morgan (THEN SINGS MY SOUL) has developed an in-depth model for dissecting one of the Bible's most well-known and oft-quoted verses: Romans 8:28. "We know that all things work together for the good of those who love God." This single promise, many theologians agree, could well be the most hopeful, vital and power-packing verse in the Bible.
As Morgan shares again and again in his text, every Christian has the opportunity to view his or her life and circumstances through the lens of faith, believing that even the vilest, most heart-wrenching occurrence eventually will be turned to good. Or, believers can turn away from God in the midst of their pain, refusing to exercise the power of their faith in His unfailing promises to bring a good result in His time and in His way. It is at this pivotal juncture that Morgan exhorts fellow believers to immerse their heads and hearts in scripture and believe.
Certainly, Morgan's experiences as a pastor, husband, father and friend have exposed him to life's tragedies on a regular basis. With real transparency, he recounts his own periods of emotional disbelief and heartache when the unthinkable happened to those he loved and has shepherded in his church. Yet Morgan doesn't leave readers wondering what happens next. He goes full circle and tells his reading audience both the before and after; how life must be lived in the now by faith, but in the "after" we frequently understand the purpose behind our suffering.
Each chapter offers multiple and engagingly written real-life accounts of people who faced circumstances so unthinkable that none believed it could be transformed into good. And by the story's end, God indeed brought about such benefit, personal growth and spiritual insight that the participants thanked Him for the trial. The author takes apart each key word of Romans 8:28 and details chapter by chapter what the words mean, how they fully impact other sections of the verse, and how all things do work out for our good.
Morgan then changes the focus a bit by delving into other parts of scripture, which he terms "echoes of Romans 8:28." Readers will become more fully cognizant of how God works things out in conformity to His will, for the good of others, for the deepening of the soul, for the spreading of the gospel, in situations where there are multiple distresses, and even unto death.
In a very appropriate way, Morgan closes his study of Romans 8:28 with a final word on what to do (and think) when it seems as if things aren't working out, by providing a careful and thoughtfully written expose of Psalm 44. Again, he takes apart each heartfelt cry of anguish and brings hopeful encouragement and timely perspective to today's pain. Christians will value and appreciate this deep look into the wondrous promise from God to make all things good, for its message is surely a timeless one.
    --- Reviewed by Michele Howe

or
Not Currently Available for Direct Purchase