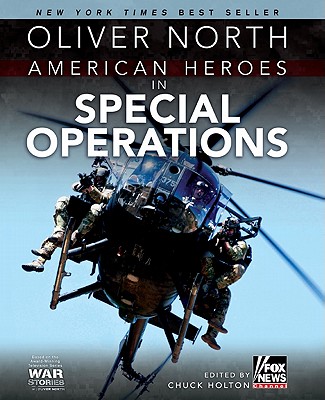 American Heroes in Special Operations (Hardcover)
Fidelis, 9780805447125, 304pp.
Publication Date: November 1, 2010
* Individual store prices may vary.
Description
Following the success of American Heroes: In the Fight Against Radical Islam (a New York Times best seller), Oliver North moves from the frontline to the world of shadow warriors, introducing readers to the brave, noble work of Navy Seals, Rangers, and Green Berets in American Heroes in Special Operations.
From the sands of Iraq to the mountains of the Hindu Kush, North relays insider stories and full-color photographs that depict soul-stirring missions, hidden victories, and desperate fights against impossible odds. Yet for these faithful, inspiring patriots, it's "all in a day's work."
About the Author
Oliver North is a combat-decorated Marine, the recipient of the Silver Star, the Bronze Star for valor, and two Purple Hearts for wounds in action. From 1983 to 1986 he served as the U.S. government's counter-terrorism coordinator on the National Security Council staff. President Ronald Reagan described him as "an American hero." A New York Times best-selling author, syndicated columnist, and host of the award-winning War Stories documentary series on the FOX News Channel, North lives with his wife, Betsy, in Virginia. They have four children and twelve grandchildren.

Chuck Holton spent four years with the 75th Ranger Regiment, flew military helicopters and now travels the world as the "adventure Correspondent" for CBN. He is the author of five books, including the Task Force Valor Series, A More Elite Soldier, and Bulletproof: The Making of an Invincible Mind. He splits his time between his home in Panama and his farm in Appalachia, where he enjoys raising animals with his wife and five children.
or
Not Currently Available for Direct Purchase