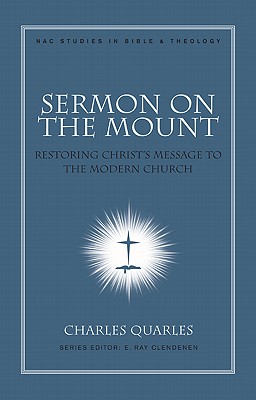 Sermon On The Mount (Hardcover)
Restoring Christ's Message to the Modern Church
B&H Academic, 9780805447156, 400pp.
Publication Date: November 1, 2011
* Individual store prices may vary.
Description
Matthew 5-7, popularly known as the
Sermon on the Mount
, has been described as "the essence of Christianity" and inspired many commentaries. However, New Testament professor Charles Quarles believes a fair number of those volumes either present Christ's sermon as containing an impossible spiritual ethic or instead dilute its message so much that hardly any ethical challenge remains. Also concerning, a recent Gallup poll indicated only onethird of American adults recognize Jesus as the source of this teaching that has often inspired people who do not even embrace evangelical Christianity.
Quarles' new analysis, part of the New American Commentary Studies in Bible & Theology series, aims to fill the gap between these extremes by dealing with the important questions of whether believers can live by the Sermon on the Mount today, and, if so, how. Looking at the Beatitudes, what it means to be salt and light, and the demand for superior righteousness, he writes to restore this crucial section of our Lord's teaching to its proper place in His church.
About the Author
Charles L. Quarles (Ph.D., Mid-America Baptist Theological Seminary) is professor of New Testament and Biblical Theology at Southeastern Baptist Theological Seminary. He is coauthor of The Cradle, the Cross, and the Crown: An Introduction to the New Testament (with Andreas Köstenberger and Scott Kellum) and The Sermon on the Mount: Restoring Christ's Message to the Modern Church.