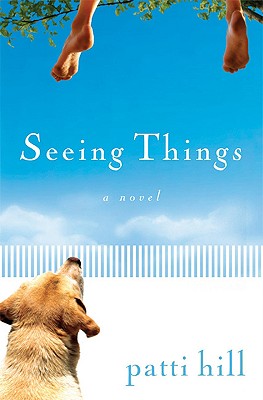 Seeing Things (Paperback)
B&H Books, 9780805447514, 336pp.
Publication Date: September 1, 2009
* Individual store prices may vary.
or
Not Currently Available for Direct Purchase
Description
Birdie Wainwright, 72, isn t concerned about seeing things that others can t. For a woman who still climbs mountains with her dog (Miss Bee Haven) and likes to tango, the impractical visions brought on by macular degeneration are just another gift from God, adding more adventure to life. But when a tumble down the stairs breaks her ankle and leads back to her son's home in Denver where she must convalesce, Birdie's imagination really takes flight. Following a conversation with her grandson about "The Adventures of Huckleberry Finn," she begins to see and speak with the unkempt literary character himself on a regular basis. As the line between reality and whimsy turns brittle, faith is tested among friends and loved ones, and hope is reborn."
Seeing Things "is a story about family, reconciliation, and hearing from God in unexpected ways.
Endorsements:
Seeing Things is a delight for the senses. Patti Hill is gifted with the ability to provide a colorful illusion with words, in which I could see better through the eyes of an older woman with macular degeneration than I can see through my own eyes. The story is honest about family struggles, filled with realistic characters and gentle humor--a literary treat.
Hannah Alexander, author of "A Killing Frost" and "the Hideaway series"
What a joyful adventure this was In "Seeing Things," Patti Hill has created the most wonderful traveling companion: Birdie Wainwright, a plucky, funny, deliciously foolish, wondrously wise grandmother with macular degeneration and hallucinations of Huckleberry Finn. Mix her in with a well-meaning dog, a lovesick pharmacist, and a family much too uppity for its britches, and you've got a tender, soul-stirring novel that will make you smile long after you turn the last page.
Kathleen Popa, author of "To Dance in the Desert "and "The Feast of Saint Bertie"
"Patti Hill has created a quirky bunch of characters and dropped them into a fascinating story world where nothing is too far-fetched, in her delightful novel "Seeing Things." Thoroughly engaging from start to finish." Sharon K. Souza, author of "Lying on Sunday"
About the Author
Patti Hill, after years of raising children and then joyfully teaching elementary school, finally took her long-ago college English professor s advice ( You should be a writer ) and fulfilled the dream of having her first novel published to wide acclaim in 2005. She writes almost every day now and lives with her husband in Grand Junction, Colorado."
Advertisement