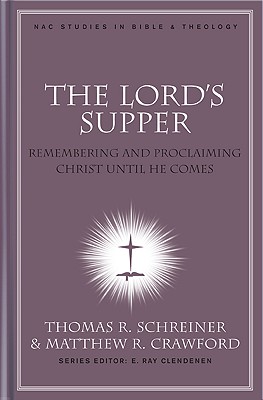 The Lord's Supper
Remembering and Proclaiming Christ Until He Comes
Hardcover

* Individual store prices may vary.
Description
"As they were eating, Jesus took bread, blessed and broke it, gave it to the disciples, and said, 'Take and eat it; this is My body.'" -Matthew 26:26 (HCSB)
A follow-up to Believer's Baptism in the New American Commentary Studies in Bible & Theology series, The Lord's Supper explores the current Baptist view of the communion sacrament. Contributors include Andreas Köstenberger ("The Lord's Supper as a Passover Meal"), Jonathan Pennington ("The Last Supper in the Gospels"), Jim Hamilton ("The Lord's Supper in Paul"), and Michael Haykin ("Communion in the Early Church"). Adding a helpful perspective, chapters are also provided on the Roman Catholic, Lutheran, Calvinist, and Zwinglian views of communion.
B&H Academic, 9780805447576, 432pp.
Publication Date: January 1, 2011
About the Author
Thomas R. Schreiner is the James Harrison Professor of New Testament Interpretation at The Southern Baptist Theological Seminary in Louisville, Kentucky. He has also taught New Testament at Azusa Pacific University and Bethel Theological Seminary. He received a B.S. from Western Oregon University, a M.Div. and Th.M. from Western Conservative Baptist Seminary, and a Ph.D. in New Testament from Fuller Theological Seminary. He has published a number of articles and book reviews in scholarly journals. His published books include: Interpreting the Pauline Epistles, The Law and Its Fulfillment: A Pauline Theology of Law; Romans; Women in the Church: A Fresh Analysis of 1 Timothy 2:9-15, co-edited with H. S. Baldwin and A. Kostenberger; Still Sovereign: Contemporary Perspectives on Election, Foreknowledge, and Grace, co-edited with B. A. Ware; The Race Set Before Us: A Biblical Theology of Perseverance and Assurance, co-authored with Ardel Caneday, Paul, Apostle of God's Glory in Christ: A Pauline Theology; New Testament Theology: Magnifying God in Christ. He is also the preaching pastor of Clifton Baptist Church in Louisville, Kentucky. He is married to Diane Elaine and they have four children: Daniel, Patrick, John, and Anna.
or
Not Currently Available for Direct Purchase