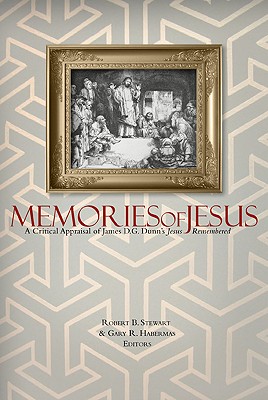 Memories of Jesus: A Critical Appraisal of James D. G. Dunn's Jesus Remembered (Paperback)
A Critical Appraisal of James D. G. Dunn's Jesus Remembered
B&H Publishing Group, 9780805448405, 334pp.
Publication Date: July 1, 2010
Description
Memories of Jesus gathers essays from a variety of contributors that critically assess the influential book, Jesus Remembered, written by James D. G. Dunn, one of today's most significant New Testament theologians. Considered a landmark in Jesus research, the book's insights and impact are further explored by scholars including Craig L. Blomberg, Gary R. Habermas, and Charles L. Quarles who also receive a direct closing response from Dunn.
About the Author
Robert B. Stewart is associate professor of Philosophy and Theology at New Orleans Baptist Theological Seminary.Gary R. Habermas is chairman, Department of Philosophy and Theology, School of Religion, and distinguished research professor of Apologetics and Philosophy at Liberty Baptist Theological Seminary and Graduate School in Lynchburg, Virginia.
Advertisement