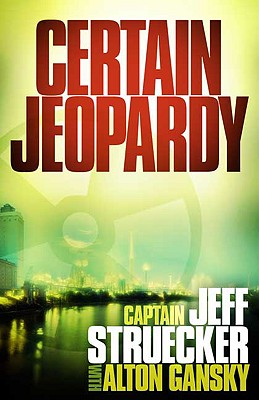 Certain Jeopardy (Paperback)
B&H Books, 9780805448535, 400pp.
Publication Date: May 1, 2009
* Individual store prices may vary.
Description
Six American men live behind a protective façade, their real work hidden from neighbors and friends. Different in countless ways, they are intimately the same in one: at any moment their lives can be altered with a phone call, and their actions may change the world.
They are Special Ops. And one team's mission is about to hit certain jeopardy status when the discovery of an Al Qaeda base in Venezuela becomes secondary to thwarting the transport of a nuclear weapons expert from that training camp to Iran.
Informed by the true combat experience of Captain Jeff Struecker and finessed by award-winning novelist Alton Gansky, Certain Jeopardy is an immersing and pulsating fictional account of what really happens at every level of a stealth engagement: the physical enemy encounter, the spiritual war fought within a soldier, and the emotional battles in families back at home.
Endorsements:
Certain Jeopardy by Jeff Struecker and Alton Gansky is like the TV show The Unit on steroids! A group of six men appear to live normal American lives, but at any time they can be called to report to a Special Operations group performing actions for the safety of their country at the risk of their lives. The men are called to Venezuela to investigate rumors of a Al-Qaeda training camp. Instead they stumble into the kidnapping of a nuclear scientist who can empower Iran to create their own nuclear weapons. To rescue him and his family that is being held hostage for his cooperation will force them to use every skill they know and may cost them their lives. I'm not usually a fan of military thrillers, but this book grabbed me on page one and didn't let go until I finally remembered to breathe again at the end. Struecker has served several tours of duty himself, so the writing gives an inside look at secret military operations and the incredible amount of skill and fortitude needed by its members. The action is written so that every scene is almost cinematic; I could see it play out in my head. Interspersed are scenes of the families at home coping with never knowing where their loved ones are or if they will come home. Together they create a powerful look at Army life. I hope that the authors will revisit this team, because I would love to read more!
--Christy's book blog
About the Author
Jeff Struecker was a decorated member of the United States Army's most elite fighting corps whose personal experiences in Mogadishu, Somalia, were documented in the New York Times best seller and major motion picture Black Hawk Down. Retired with twenty-two years of active service, he also fought many tours of duty in Panama, Kuwait, Afghanistan, and Iraq. He is a nationally recognized speaker and pastor of Calvary Baptist Church in Columbus, GA.
Alton Gansky is the Angel Award-winning, Christy Award-nominated author of more than three dozen books and director of the premier Blue Ridge Mountain Christian Writers conference. He holds two degrees in Biblical Studies and lives with his wife in central California.
or
Not Currently Available for Direct Purchase