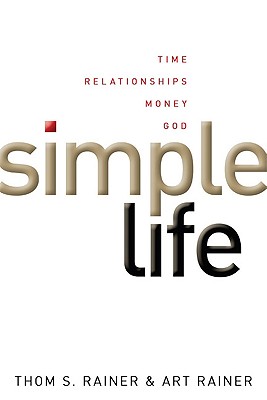 Simple Life: Time, Relationships, Money, God (Hardcover)
Time, Relationships, Money, God
B&H Publishing Group, 9780805448863, 324pp.
Publication Date: September 1, 2009
Description
The research and change methods that made Simple Church a multiawarded, #1 ministry best seller are now applied to everyday matters in Simple Life. Authors Thom S. Rainer and Art Rainer interviewed a cross-section of 1,077 individuals to confirm that most people feel their lives are overly stressful and misguided, not allowing enough time for what really counts. As they share these highly relatable stories, the Rainers chart a simple path from joyless to joyful.
Breaking life down into four key sections (Time, Relationships, God, Money), the authors show how four key goals (Clarity, Movement, Alignment, Focus) can begin to foster a life that is more spiritual and less busy, a life rich in experiences with family and friends rather than double-booked to-do lists and late nights at the office. The book even lays out an easy-to-follow action plan that will move readers assuredly toward the simple life in just thirty days.
About the Author
Thom S. Rainer is president and CEO of LifeWay Christian Resources, one of the largest Christian resource companies worldwide, and the best-selling coauthor of Simple Church. Rainer and his wife, Nellie Jo, have three grown sons and live in Nashville, Tennessee.Art Rainer is a banking professional and freelance writer. He earned his MBA from the University of Kentucky and now lives with his wife, Sarah, near Miami, Florida.
Advertisement