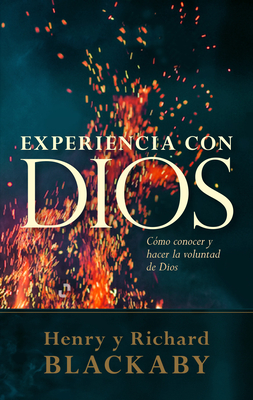 Experiencia con Dios
Knowing and Doing the Will of God, Revised and Expanded
Paperback

* Individual store prices may vary.
Other Editions of This Title:
Paperback (9/1/2008)
CD-Audio (8/28/2008)
Paperback (9/1/2005)
Description
Now available in Spanish! The Experiencing God ministry is even more vibrant today than when it began. As it continues to rise, and the world continues to change, the Experiencing God book has been revised and expanded with more than seventy percent of its material newly written.
A modern classic that has sold millions of copies worldwide, Experiencing God is based on seven Scriptural realities that teach us how to develop a true relationship with the Creator. By understanding how God is working through us even as we try to fathom His ways, we can begin to clearly know and do His will and discover our lives greatly and gracefully changed.
¡Disponible en español! El ministerio de Experiencia con Dios tiene más vitalidad hoy que cuando comenzó. Mientras sigue creciendo y el mundo sigue cambiando, el libro Experiencia con Dios ha sido revisado y ampliado, y tiene más de un 70% de material reescrito.
Experiencia con Dios, un clásico moderno que ha vendido millones de copias en todo el mundo, está basado en siete realidades de las Escrituras que nos enseñan a desarrollar una verdadera relación con el Creador. Al comprender cómo Dios obra en nosotros, aun mientras intentamos comprender sus caminos, podemos comenzar a conocer claramente su voluntad y hacerla, y a descubrir cómo cambian nuestras vidas en forma radical por medio de la gracia.
B&H Español, 9780805449389, 368pp.
Publication Date: May 1, 2009
About the Author
Henry Blackaby es fundador y presidente emérito de Blackaby Ministries International, organización creada para ayudar a las personas en su experiencia con Dios. Nacido en Columbia Británica, Canadá, es coautor del clásico moderno Experiencia con Dios: Cómo conocer y hacer la voluntad de Dios (se han vendido más de siete millones de libros y Biblias de estudio). Entre sus otras obras reconocidas se incluye Spiritual Leadership [Liderazgo espiritual], Fresh Encounter [Nuevo encuentro] y A God Centered Church [Una iglesia centrada en Dios]. Él y su esposa tienen cinco hijos, catorce nietos y viven en Rex, Georgia (EE.UU.).

Henry Blackaby is founder and president emeritus of Blackaby Ministries International, an organization built to help people experience God. Born in British Columbia, he coauthored the modern classic Experiencing God: Knowing and Doing the Will of God (more than seven million books and Bible studies sold), and his other acclaimed works include Spiritual Leadership, Fresh Encounter, and A God Centered Church. He and his wife have five children, fourteen grandchildren, and live in Rex, Georgia.

Richard Blackaby es presidente de Blackaby Ministries International y el hijo mayor de Henry y Marilynn Blackaby. Ha obtenido diplomas en la Universidad de Saskatchewan, el Seminario Teológico Bautista del Sudoeste y la Universidad Bautista de Dallas. Vive con su esposa e hijos en Carolina del Sur (EE.UU.).

Richard Blackaby is president of Blackaby Ministries International and the oldest child of Henry and Marilynn Blackaby. He holds degrees from the University of Saskatchewan, Southwestern Baptist Theological Seminary, and Dallas Baptist University. He lives with his wife and children in South Carolina.

Claude King es el editor en jefe del departamento de Recursos sin fecha en Lifeway. Posee títulos de la Universidad Belmont y del Seminario Teológico Bautista de Nueva Orleans. Vive con su esposa en Murfreesboro, Tennessee.

Claude King is the discipleship specialist at LifeWay Christian Resources and coauthor of the classic book Experiencing God. He holds degrees from Belmont College and New Orleans Baptist Theological Seminary and lives with his wife in Murfreesboro, Tennessee.
or
Not Currently Available for Direct Purchase