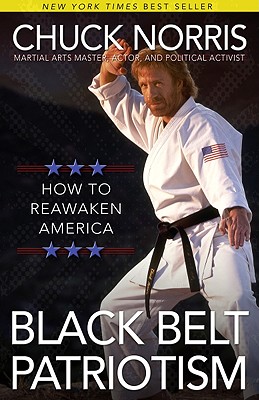 Black Belt Patriotism (Paperback)
How to Reawaken America
Fidelis, 9780805464368, 296pp.
Publication Date: January 1, 2010
Other Editions of This Title:
Digital Audiobook (10/5/2008)
Hardcover (8/19/2008)
MP3 CD (9/1/2008)
Compact Disc (9/1/2008)
Compact Disc (9/1/2008)
Pre-Recorded Audio Player (3/1/2009)
* Individual store prices may vary.
Description
The New York Times best seller now available in a trade paper edition!
Chuck Norris says, "Black Belt Patriotism is my critique of what is destroying our country, and offers my solutions for rebuilding America and restoring the American dream. It's 'black belt' in the sense that it is strong, resolute and to the point, like a roundhouse kick. It's 'patriotic' in the sense that it recaptures the vision of America's Founding Fathers. I wrote this book in the hope that future generations of Americans can continue to enjoy life, liberty, and the pursuit of happiness . . . .
"It doesn't take many people to foster a revolution. Jesus did it with twelve disciples. George Washington did it with his few suffering troops at Valley Forge. And we can do it today. We can set a new direction for America with people like you and me, who through our efforts in our communities and at the ballot box and in our personal lives can make this country everything it should be."
About the Author
Chuck Norris is a legendary film and televison actor best known for his popular series Walker, Texas Ranger, now in sydication to millions worldwide. He is also a martial arts expert, an active humanitarian and founder of KICKSTART, and author of the New York Times best-selling autobiography Against All Odds. Norris also writes a column that appears in Human Events, Town Hall, and World Net Daily, among other outlets. He lives with his wife Gena and their children near Houston, Texas.
or
Not Currently Available for Direct Purchase