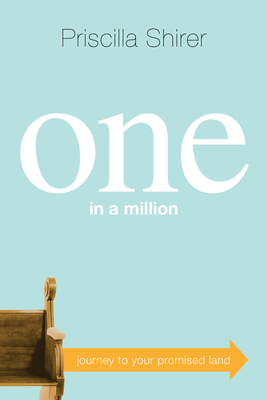 One in a Million (Paperback)
Journey to Your Promised Land
B&H Books, 9780805464764, 224pp.
Publication Date: March 1, 2010
Other Editions of This Title:
Paperback, Spanish (3/1/2010)
Compact Disc (6/1/2018)
* Individual store prices may vary.
Description
The Egyptians in Exodus 1 were intent on enslaving the Israelites, wearing them down so that God's chosen people would become disillusioned and not live up to their destiny. Of the original two million Israelites who received God's invitation to enter the Promised Land, only two actually entered it!
Similarly, modern day Christians often hear and understand the promises of God each Sunday morning at church but then rarely choose to experience them in everyday life. In One in a Million, Bible teacher Priscilla Shirer invites us to change that pattern for good, living beyond our circumstances and expecting to see God move in miraculous ways day after day. Without a doubt, we can find and follow God's purpose for our journey. We can make it to the Promised Land!
About the Author
Priscilla Shirer, maestra de enseñanza bíblica y conferencista, tiene un diploma de Master en Estudios Bíblicos del Seminario Teológico de Dallas. También es reconocida como escritora. Entre sus libros se incluye Uno en un millón, Interrupción divina y La resolución para mujeres, este último incorporado a la lista de títulos exitosos del New York Times. También actúa como personaje principal en la película "Cuarto de guerra" (War Room). Priscila está casada con Jerry Shirer, con quien fundó el ministerio "Going Beyond". Tienen tres hijos y viven en Dallas, Texas.

Priscilla Shirer is a Bible teacher and conference speaker with a Master's degree in Biblical Studies from Dallas Theological Seminary. Also a popular author, her books include the New York Times Best-Seller, The Resolution for Women, One in a Million, and Life Interrupted. She is also the lead character in the War Room movie. Priscilla is married to Jerry with whom she founded Going Beyond Ministries. They have three sons and live in Dallas, Texas.