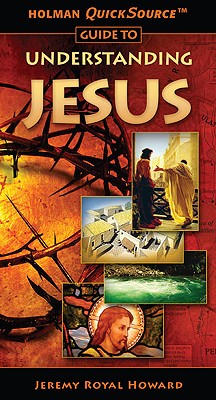 Holman QuickSource Guide to Understanding Jesus (Paperback)
Holman Reference, 9780805495218, 400pp.
Publication Date: February 1, 2009
* Individual store prices may vary.
Description
Book six in a greatly successful, visually-driven yet content-rich reference series, the Holman QuickSource™ Guide to Understanding Jesus takes a close and clear look at Christ in five parts: (1) His Old Testament background, (2) His life on Earth, (3) the Cross, (4) His teachings, and (5) His followers. Author Jeremy Howard, an apologetics expert inspired by the engaging style of C. S. Lewis, equips Christians with answers to deep and challenging spiritual questions while also helping seekers and unbelievers see Jesus for who He really is. In support, the book includes more than two hundred color photographs and illustrations.
About the Author
Jeremy Royal Howard es escritor y el editor de múltiples materiales teológicos. Obtuvo su bachillerato en la Universidad Teológica de Tennessee (Tennessee Technological University) con especialización en biología y en el Seminario Teológico Bautista del Sur (Southern Baptist Theological Seminary) obtuvo su Master  y Doctorado en Divinidad con énfasis en apologética y visión del mundo, filosofía y teología.

Jeremy Royal Howard is a writer and editor of multiple theology resources. Dr. Howard was educated at Tennessee Technological University (B.S.) with a major in biology and The Southern Baptist Theological Seminary (M.Div. and Ph.D) with emphases on apologetics and worldview, philosophy, and theology.