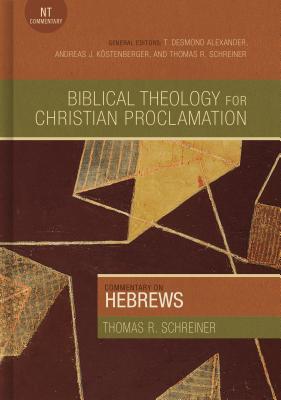 Commentary on Hebrews (Biblical Theology for Christian Proclamation #36) (Hardcover)
Holman Reference, 9780805496130, 560pp.
Publication Date: February 1, 2015
* Individual store prices may vary.
Description
The Biblical Theology for Christian Proclamation Commentary series explores the theology of the Bible in considerable depth, spanning both Testaments. Authors come from a variety of backgrounds and perspectives, though all affirm the inerrancy and inspiration of Scripture. United in their belief in the underlying unity of Scripture, each author explores the contribution of a given book or group of books to the theology of Scripture as a whole. All volumes provide a discussion of introductory matters, including the book's historical setting and the literary structure. Also included is an exegetical treatment of all the relevant passages in succinct commentary-style format. The major contribution of each volume, however, is a thorough discussion of the most important themes of the biblical book in relation to the canon as a whole.

This format, in itself, would already be a valuable contribution to biblical theology. But there are other series that try to accomplish a survey of the Bible's theology as well. What distinguishes the present series is its orientation toward Christian proclamation. As a result, the ultimate purpose of this set of volumes is not exclusively, or even primarily, academic. Rather, we seek to relate biblical theology to our own lives and to the life of the church. Our desire is to equip those in Christian ministry who are called by God to preach and teach the precious truths of Scripture to their congregations.


In his volume on Hebrews, Thomas R. Schreiner says, "The words of Jesus on the cross, 'it is finished' (John 19:30) capture the theology of Hebrews. My aim in this commentary is to focus on the biblical theology of the letter. The emphasis on biblical theology shows up especially in the introduction and conclusion where theological structures and themes are considered. The commentary will conclude, after presenting an exegesis of each chapter, with a discussion of some major theological themes in Hebrews."
 
About the Author
Thomas R. Schreiner is the James Harrison Professor of New Testament Interpretation at The Southern Baptist Theological Seminary in Louisville, Kentucky. He has also taught New Testament at Azusa Pacific University and Bethel Theological Seminary. He received a B.S. from Western Oregon University, a M.Div. and Th.M. from Western Conservative Baptist Seminary, and a Ph.D. in New Testament from Fuller Theological Seminary. He has published a number of articles and book reviews in scholarly journals. His published books include: Interpreting the Pauline Epistles, The Law and Its Fulfillment: A Pauline Theology of Law; Romans; Women in the Church: A Fresh Analysis of 1 Timothy 2:9-15, co-edited with H. S. Baldwin and A. Kostenberger; Still Sovereign: Contemporary Perspectives on Election, Foreknowledge, and Grace, co-edited with B. A. Ware; The Race Set Before Us: A Biblical Theology of Perseverance and Assurance, co-authored with Ardel Caneday, Paul, Apostle of God's Glory in Christ: A Pauline Theology; New Testament Theology: Magnifying God in Christ. He is also the preaching pastor of Clifton Baptist Church in Louisville, Kentucky. He is married to Diane Elaine and they have four children: Daniel, Patrick, John, and Anna.