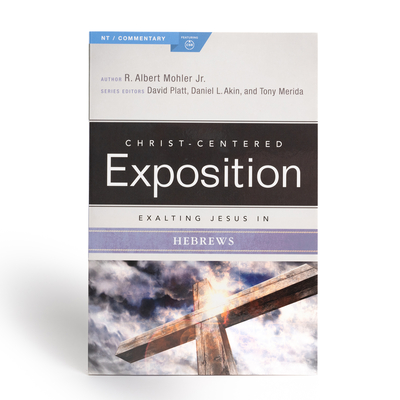 Exalting Jesus in Hebrews (Christ-Centered Exposition Commentary)
Paperback

* Individual store prices may vary.
Description
Exalting Jesus in Hebrews is part of the Christ-Centered Exposition Commentary series. Edited by David Platt, Daniel L. Akin, and Tony Merida, this new commentary series, projected to be 48 volumes, takes a Christ-centered approach to expositing each book of the Bible. Rather than a verse-by-verse approach, the authors have crafted chapters that explain and apply key passages in their assigned Bible books.
 
Readers will learn to see Christ in all aspects of Scripture, and they will be encouraged by the devotional nature of each exposition presented as sermons and divided into chapters that conclude with a "Reflect & Discuss" section, making this series ideal for small group study, personal devotion, and even sermon preparation. It's not academic but rather presents an easy reading, practical and friendly commentary.
 
The author of Exalting Jesus in Hebrews is Dr. R. Albert Mohler, Jr.

Praise For Exalting Jesus in Hebrews (Christ-Centered Exposition Commentary)…
It's one thing to know Bible stories; it's another to know the story of the Bible. It's one thing to be aware of the story's many heroes; it's another to have met the Hero himself. From the Old Testament that anticipates him, to the Gospels that manifest him, to the Book of Acts that proclaims him, to the Epistles that explain him, and to the Book of Revelation that tells of him coming again, your Bible is about Jesus. That's why I love the vision of the Christ-Centered Exposition Commentary series. It models for preachers and teachers how to proclaim—with pastoral focus and exegetical care—the beauty of the gospel from every page of Scripture.

Matt Smethurst
Associate Editor for The Gospel Coalition


Albert Mohler is to be commended for providing readers with a theologically focused, exegetically faithful, and Christ-honoring exposition the book of Hebrews. This insightful and impressive commentary on one of the most challenging books in the New Testament simultaneously points readers to the incomparable superiority of Christ while wrestling with the historical meaning and contemporary significance of the book's structure, as well as the serious warning passages scattered throughout the epistle. In doing so, Mohler has given us more than a cogent and clearly written theological commentary for preachers and teachers; he has also provided his readers with an immensely helpful, warm-hearted resource for all who wish to understand the truth of God's Word. It is a joy to recommend this marvelous book for pastors, church leaders, and students alike.

David S. Dockery
President, Trinity International University


When Dr. Al Mohler is involved I always have a difficult time knowing whether I had rather read his philosophy and world view insights or to peruse his keen exposition of Scripture.  This volume on Hebrews may solve the equation.   Polymath extraordinaire, Mohler mixes that intellectual attainment with a tender heart for God's word and a love for the auditor in a rare style of commentary for preaching to the man on the street.  A man who plans to preach the Bible cannot afford to miss this commentary on Hebrews.

Paige Patterson
Southwestern Baptist Theological Seminary
Fort Worth, Texas


"With this commendable commentary on Hebrews, Al Mohler has done preachers and teachers a great service. Readers will find that the book is thorough, informative, and profitable, and that it will stir up the coals and fan the flames of preaching passion and fire. Take up and read!"

Terry L. Wilder, Wesley Harrison Chair and Professor of New Testament and Associate Dean, PhD Program, Southwestern Baptist Theological Seminary, Fort Worth, Texas
Holman Reference, 9780805496475, 288pp.
Publication Date: March 1, 2017
About the Author
Daniel L. Akin is the president of Southeastern Baptist Theological Seminary in Wake Forest, North Carolina. He holds a Ph.D. in Humanities from the University of Texas at Arlington and has authored or edited many books and Bible commentaries including Ten Who Changed the World and the Christ-Centered Exposition Commentary volumes on Mark and 1, 2, 3 John.

Tony Merida is lead pastor of Imago Dei Church in Raleigh, North Carolina. He earned a Ph.D. in preaching from New Orleans Baptist Theological Seminary and serves as associate professor of Preaching at Southeastern Baptist Theological Seminary. His books include Faithful Preaching and Orphanology.