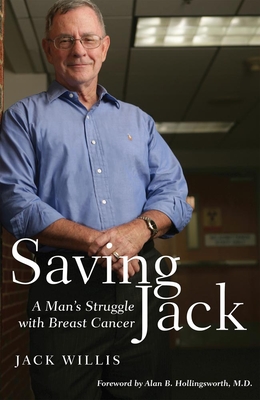 Saving Jack
A Man's Struggle with Breast Cancer
Paperback

* Individual store prices may vary.
Description
A moving account of breast cancer from a surprising perspective
It isn't just a woman's disease: few men stop to consider it, but one in a thousand males contracts breast cancer.
Saving Jack is a moving first-person account of a man's experience with breast cancer. In a tale of challenge and adversity, Jack Willis relates his personal experience, from first feeling a pea-sized nodule in his breast to being diagnosed, from mastectomy and chemotherapy treatments to positive prognosis. And in telling candidly of his struggles, he conveys his renewed appreciation of life.
While there is no shortage of books devoted to helping women with breast cancer, this is the first to address the apprehensions faced by men who contract the disease. As he describes the physical and emotional roller coaster on which he suddenly found himself, Willis shares with readers--especially other new cancer victims--some of the things he and his family didn't know about cancer when he was diagnosed.
In a compelling story of faith, fear, and sometimes just getting through one long day of chemo, Willis shows that cancer is a family disease, affecting spouses and children as well as victims. For anyone whose family has been devastated by this frightening diagnosis, Saving Jack offers a ray of hope--and for men who face this unexpected disease, it offers a much needed source of strength.
University of Oklahoma Press, 9780806138954, 187pp.
Publication Date: May 1, 2008