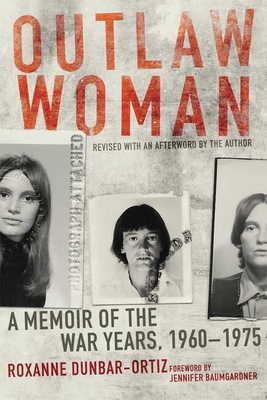 Outlaw Woman (Paperback)
A Memoir of the War Years, 1960-1975
University of Oklahoma Press, 9780806144795, 381pp.
Publication Date: March 20, 2014
Other Editions of This Title:
Paperback (4/1/2002)
* Individual store prices may vary.
Description
"Outlaw Woman is the story, bold and honest, of Roxanne Dunbar-Ortiz's extraordinary journey-political, ideological, personal-through the sixties and early seventies . . . in and out of every important feminist and revolutionary movement of that remarkable time in American history. She illuminates all those experiences with unsparing scrutiny and emerges with a fierce, admirable independence." Howard Zinn author of A People's History of the United States "I stand in awe of Roxanne Dunbar-Ortiz. She is a survivor, capital 'S.' She was there in the middle of it all. Now I understand what was going on with the movement outside of Indian Country during those amazing years." Madonna Gilbert Thunder Hawk activist and AIM leader at Alcatraz and Wounded Knee II "Stark, unrelenting, honest, and evocative-of a time when a diverse subculture cared, a time that should make us proud." Margaret Randall activist and author of Sandino's Daughters Revisited In 1968, Roxanne Dunbar-Ortiz helped found the Women's Liberation Movement. An antiwar and anti-racist activist and organizer throughout the 1960s and early 1970s, she was a fiery, tireless public speaker on issues of patriarchy, capitalism, imperialism, and racism. She worked in Cuba with the Venceremos Brigade and formed associations with other revolutionaries across the spectrum of radical politics, including the Civil Rights Movement, Students for a Democratic Society, the Revolutionary Union, the African National Congress, and the American Indian Movement. Unlike most of those involved in the New Left, Dunbar-Ortiz grew up poor, female, and part-Native American in rural Oklahoma, and she often found herself at odds not only with the ruling class but also with the Left and with the women's movement. Her odyssey from Oklahoma poverty to the urban New Left gives a working-class, feminist perspective on a time and a movement that forever changed U.S. society. In a new afterword, the author reflects on her fast-paced life fifty years ago, in particular as a movement activist and in relationships with men. Roxanne Dunbar-Ortiz, a writer, teacher, historian, and social activist, is Professor Emerita of Ethnic Studies and Women's Studies at California State University, East Bay, and author or editor of numerous scholarly articles and books, as well as two other memoirs, Red Dirt: Growing Up Okie and Blood on the Border: A Memoir of the Contra War. Jennifer Baumgardner is a writer, activist, filmmaker, and lecturer. Executive Director and Publisher of the Feminist Press at the City University of New York, she is the author, most recently, of F 'em Goo Goo, Gaga, and Some Thoughts on Balls.