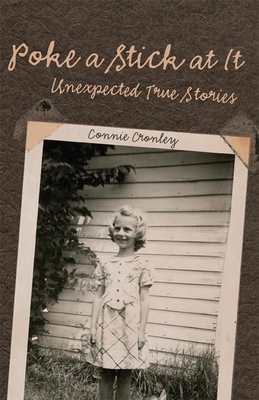 Poke a Stick at It (Paperback)
Unexpected True Stories
University of Oklahoma Press, 9780806153957, 256pp.
Publication Date: September 30, 2016
* Individual store prices may vary.
Description

Open this book and who knows what will pop out: the story of a gangland funeral, a status report on an ex-husband, a meditation on cats and gardens, a feuilleton about Native American fry bread, or a thoughtful musing on old women and books. Welcome to the delightfully irreverent world of Connie Cronley, essayist, radio commentator, and native Oklahoman.

In this collection of true stories, Cronley pokes fun at everything--including herself--as she delights in the world around her. With her trademark down-home humor, Cronley takes on a range of subjects as broad as the Oklahoma prairies. No subject is off-limits as the author casts her curious eye on vampire literature, gay insects, air-dried laundry, Emily Post etiquette, and impossible dogs. As she says, "It's a big world and there's a lot to know."

Poke a Stick at It is also a love letter to the glories of the English language. Even as Cronley fusses around her garden or snoozes on the couch with her cat Muriel, she always has a stack of books within easy reach. Her eclectic passion for reading, embracing the lowbrow and the highbrow, the epic romance Gone with the Wind and the poems of Emily Dickinson, is both infectious and inspiring.

Often compared to authors Annie Dillard, Phyllis McGinley, Robert Benchley, and Mark Twain, Connie Cronley is a Southwest original, a writer who infuses her stories with joy, humor, beauty--and plenty of spice.