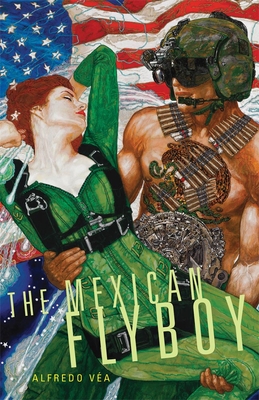 The Mexican Flyboy, 16
Paperback

* Individual store prices may vary.
Description
What if we could travel back in time to save our heroes from painful deaths? What if we could rewrite history to protect and reward the innocent victims of injustice? In Alfredo V a's daring new novel, one man does just that, taking readers on a series of remarkable journeys. Abandoned as a child, brooding and haunted as an adult, Simon Vegas, "the Mexican Flyboy," toils for years to repair a time machine that fell into his hands in Vietnam. With the help of his friend, eccentric Hephaestus Segundo, Simon uses the device to fly through time. Wherever acts of human cruelty take place, in the past or in the present, the machine lets him lift the suffering away and deliver them to a utopian afterlife. Blending magical realism, science fiction, history, and comic-book fantasy, The Mexican Flyboy swoops readers from the jungles of Southeast Asia to the vineyards of Northern California, from Ethel Rosenberg's execution to Joan of Arc's pyre, in a tale of justice, trauma, regret, and redemption. The dead pass through the narrative in a parade at once heartbreaking and hopeful, among them Vincent van Gogh and Malcolm X, Ernest Hemingway and Amadou Diallo. But the living--Simon's pregnant wife, Elena, his old friend Ezekiel Stein, prisoner Lenny Hudson--all throw doubt onto Simon's story. Is Simon truly a "magus," transporting martyrs to a shared community in paradise? Or is he just a man broken by loss, guilt, and the trauma of war, hopelessly lost in an illusion of his own making? Crossing genres and blending comedy with tragedy, Alfredo V a imagines a world where we can rewrite our pasts and heal the wounds inflicted by history. Inviting comparisons to the work of James Joyce and Jorge Luis Borges, Junot D az and Michael Chabon, this powerful book is like nothing else you have ever read.
University of Oklahoma Press, 9780806187037, 352pp.
Publication Date: June 15, 2016