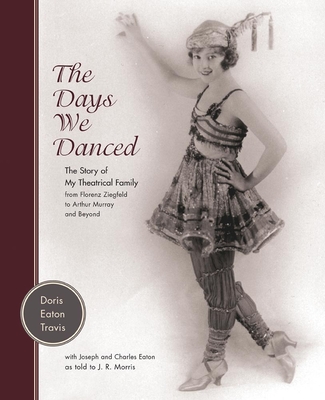 The Days We Danced: The Story of My Theatrical Family from Florenz Ziegfeld to Arthur Murray and Beyond (Hardcover)
The Story of My Theatrical Family from Florenz Ziegfeld to Arthur Murray and Beyond
University of Oklahoma Press, 9780806199504, 279pp.
Publication Date: November 3, 2003
Description
With Joseph and Charles Eaton As Told to J.R. Morris
At age fourteen, Doris Eaton was the youngest performer in the Ziegfeld Follies, appearing with such legends as Eddie Cantor, Fanny Brice, Will Rogers, and Marilyn Miller. With two sisters and two brothers also appearing in the Follies in the years between 1918 and 1923, the Eatons became a well-known Broadway family.
Beginning their careers in the Washington, D.C., and Baltimore area, the "Seven Little Eatons" became seasoned performers, working the stock-company circuit before arriving in New York City and being caught up in the golden age of Broadway. Doris and her two sisters, Pearl and Mary, became popular dancers, and throughout the twenties they were never out of work. Doris was the first Eaton to go to Hollywood, and there in 1929 she introduced the song "Singing in the Rain" in the Hollywood Music Box Review. Later, Doris left show business and went on to great success building a chain of eighteen Arthur Murray studios in Michigan, which she owned and operated for thirty years.
In a refreshingly wise voice, The Days We Danced introduces readers to the successes and poignant sorrows of the Eaton family, including alcoholism, professional failures, early death, and even a tragic murder.
With memories that span almost a century, Doris recalls the state of the American theater during World War I, the "roaring twenties," the Great Depression--as well as the legendary names of the rich and famous celebrities with whom the Eatons worked and played. Accompanied by scores of unique period photographs, this memoir details the life of a woman who never stopped dancing--even when the curtain fell.
Advertisement