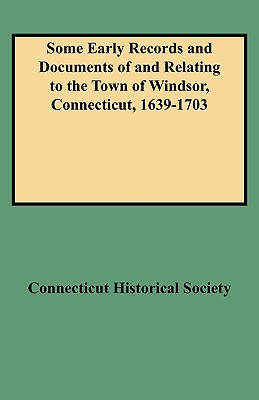 Some Early Records and Documents of and Relating to the Town of Windsor, Connecticut, 1639-1703
Paperback

* Individual store prices may vary.
Other Editions of This Title:
Paperback (9/10/2021)
Hardcover (9/9/2021)
Description
Windsor, Connecticut was one of the three towns that united to form the Colony of Connecticut in the 17th century. A great deal of data concerning Windsor's early inhabitants can be garnered from this work, which is based on records in the possession of the Connecticut Historical Society. By far the largest source transcribed for this publication is the Matthew Grant, or "Old Church," Record, 1639-1681. Comprising the first half of the volume, the Matthew Grant Record consists of several thousand births, marriages, and deaths for Windsor families throughout much of the 17th century. Though not an "official record" of the town, it nonetheless is one of the most important sources of Windsor "vital records" in existence. Various addenda to the Matthew Grant Record are appended to the back of the book. The balance of the volume is made up of a variety of records, each of which has the virtue of placing a particular colonist in Windsor during the 17th or early 18th century, namely: (1) Town Votes, which speak loudly on the methods of town governance and the persons who were assigned to carry out tasks; (2) Lists of Freemen, 1669, 1703; (3) Documents Relating to the Church Controversy of 1669-1679, which affected towns throughout Connecticut; and (4) A Ratable List of Persons and Estates, 1686, representing the second longest record in the volume and disclosing the real and personal property (with the assessed values) for each property owner in town.
Genealogical Publishing Company, 9780806351308, 234pp.
Publication Date: June 1, 2009