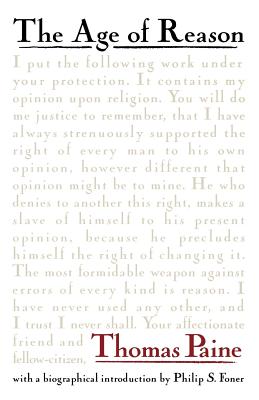 The Age of Reason (Paperback)
Kensington Publishing Corporation, 9780806505497, 192pp.
Publication Date: November 1, 1989
About the Author
Thomas Paine was born in Thetford, England, in 1737, the son of a staymaker. He had little schooling and worked at a number of jobs, including tax collector, a position he lost for agitating for an increase in excisemen s pay. Persuaded by Benjamin Franklin, he emigrated to America in 1774. In 1776 he began his American Crisis series of thirteen pamphlets, and also published the incalculably influential Common Sense, which established Paine not only as a truly revolutionary thinker, but as the American Revolution s fiercest political theorist. In 1787 Paine returned to Europe, where he became involved in revolutionary politics. In England his books were burned by the public hangman. Escaping to France, Paine took part in drafting the French constitution and voted against the king s execution. He was imprisoned for a year and narrowly missed execution himself. In 1802 he returned to America and lived in New York State, poor, ill and largely despised for his extremism and so-called atheism (he was in fact a deist). Thomas Paine died in 1809. His body was exhumed by William Cobbett, and the remains were taken to England for a memorial burial. Unfortunately, the remains were subsequently lost."
Advertisement