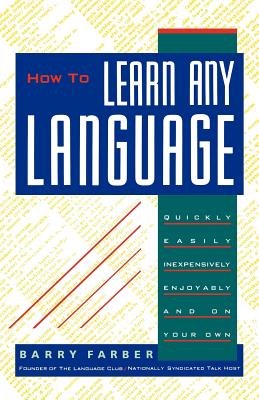 How to Learn Any Language: Quickly, Easily, Inexpensively, Enjoyably and on Your Own (Paperback)
Quickly, Easily, Inexpensively, Enjoyably and on Your Own
Kensington Publishing Corporation, 9780806512716, 192pp.
Publication Date: September 1, 1991
About the Author
Barry J. Farber is the president of Farber Training Systems, Inc. and The Diamond Group, and a noted author, speaker, television talk-show host and consultant in the areas of sales, management, and personal development. Among his many corporate clients are Allied Signal, AT&T, Chase Manhattan Bank, The Perrier Group, Merck, and Val-Pak. The author of Diamond in the Rough, Diamonds Under Pressure, and State of the Art Selling (available in both book and audiocassette format), Farber has been interviewed on CBS, NBC, and CNN and featured in leading business publications. He lives in New Jersey with his wife and three children.
Advertisement