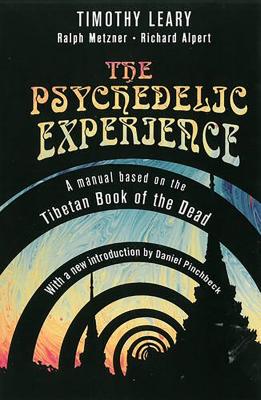 The Psychedelic Experience
Paperback

* Individual store prices may vary.
Other Editions of This Title:
Paperback (8/24/2021)
Description
We are in the midst of a powerful psychedelic renaissance. After four decades of hibernation, the promise of the psychoactive '60s--that deeper self-awareness, achieved through reality-bending substances and practices, will lead to greater external harmony--is again gaining a major following. The signs are everywhere, from the influence of today's preeminent psychedelic thinker Daniel Pinchbeck, to the renewed interest in the legacy of Terence McKenna, and to the upsurge of collective, inclusive (and overtly tripped-out) cultural phenomena like the spectacle of Burning Man. The Psychedelic Experience, created in the movement's early years by the prophetic shaman-professors Timothy Leary, Ralph Metzner, and Richard Alpert (Ram Dass), is a foundational text that serves as a model and a guide for all subsequent mind-expanding inquiries. In this wholly unique book, the authors provide an interpretation of an ancient sacred manuscript, The Tibetan Book of the Dead, from a psychedelic perspective. This volume describes their discoveries in broadening spiritual consciousness through a combination of Tibetan meditation techniques and psychotropic substances.
As sacred as the text it reflects, The Psychedelic Experience is a guidebook to the wilderness of mind and an indispensable resource from the founding fathers of psychedelia. This edition includes an all-new introduction by Daniel Pinchbeck, author of 2012: The Return of Quetzalcoatl and Breaking Open the Head.

"It is a book for the living as well as for the dying." --Lama Govinda.
Citadel Press, 9780806516523, 160pp.
Publication Date: October 1, 2000
About the Author
Timothy Leary was one of the most famous countercultural icons of the 1960's. In 1957, the Harvard psychologist experienced a "profound transcendent experience" while taking hallucinogens in Mexico. No longer content with his work in personality assessment, Leary began advocating the psychotherapeutic and spiritual benefits of LSD. His "experiments" with LSD often involved students and wild "tripping" parties, which eventually led to his dismissal from Harvard. With patronage from heirs of the Mellon fortune, Leary continued his experiments and prolific writing career at a rambling estate in upstate New York known as Millbrook. In 1967, Leary spoke at a San Francisco "Be-In," where he coined the phrase "Turn on, tune in, and drop out." Labeled as "The Most Dangerous Man in America," Leary had many run-ins with the law and served several prison sentences. He died of prostate cancer in 1996; the following year seven grams of his ashes were launched into space aboard a Pegasus rocket.
or
Not Currently Available for Direct Purchase