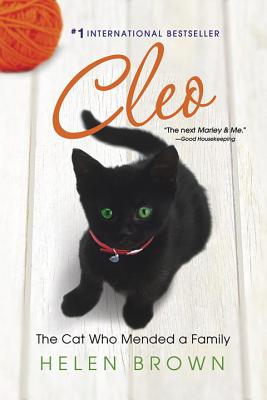 CLEO
The Cat Who Mended a Family
Paperback

* Individual store prices may vary.
Other Editions of This Title:
Mass Market (4/24/2018)
Mass Market (7/30/2019)
Paperback (9/1/2010)
MP3 CD (1/15/2019)
Compact Disc (1/15/2019)
Hardcover (9/1/2010)
Description
"We're just going to look." Helen Brown had no intention of adopting a pet when she brought her sons, Sam and Rob, to visit a friend's new kittens. But the runt of the litter was irresistible, with her overlarge ears and dainty chin.

When Cleo was delivered weeks later, she had no way of knowing that her new family had just been hit by a tragedy. Helen was sure she couldn't keep her--until she saw something she thought had vanished from the earth forever: her son's smile. The reckless, rambunctious kitten stayed.

Through happiness and heartbreak, changes and new beginnings, Cleo turned out to be the unlikely glue that affectionately held Helen's family together. Rich in wisdom, wit, heart, and healing, here is the story of a cat with an extraordinary gift for knowing just where she was needed most.

"A remarkable memoir. . .I realized that Helen Brown didn't break my heart at all--she opened it." --Beth Hoffman, New York Times bestselling author of Saving CeeCee Honeycutt

"An absolute must." --Cat World

"The next Marley &Me. Even non cat-lovers will be moved." --Good Housekeeping
Citadel, 9780806533032, 272pp.
Publication Date: September 1, 2010
About the Author
Helen Brown was born and brought up in New Zealand, where she first worked as a journalist, TV presenter, and scriptwriter. A multi‑award‑winning columnist, Helen now lives in Melbourne, Australia, with her family and feline, the internationally beloved Jonah. Her memoir Cleo rose to the top of the bestseller lists in its first weeks in the United States, United Kingdom, New Zealand, France, and Australia, and has been translated into more than sixteen languages. Cats & Daughters further increased her audience with publications in six countries.Tumbledown Manor, her first novel, again shows her storytelling talents. You can visit Helen Brown at www.helenbrown.com and follow her on Facebook.
What would you say are the main themes of Cleo?
Which characters do you identify with most? Faced with similar tragedy do you think you would behave differently?  
Has the book changed how you might behave towards someone experiencing grief? If so in what ways?
Cleo had an enormous impact on her grieving family. Discuss the importance of pets in an age of technology and splintering families. Has an animal changed your life in any way?
Helen claims not to be a cat person, partly because of her semi rural upbringing. Are "cat people" and "dog people" born or created? How would you describe yourself?
Conventional religion is not a source of comfort for Helen. How important is spirituality in this story? Is it a major factor in your own life?
For much of the book Helen struggles with forgiveness. How is it possible to truly forgive someone who has been responsible for the death of your child?
In what ways is losing a child different from losing a partner or parent?
Why is there tension in Helen and Steve's relationship, even before the tragedy? Do you think they should have worked harder to make their marriage work?
Helen embarks on a relationship with Philip, a much younger man. Would you describe her as a typical Cougar? Why do you think there's a spotlight on older women/younger men relationships?
Discuss Rob and his journey into adulthood. Does the loss of his older brother Sam enrich him in any way?
Which character do you think helps the family most? "Bubbles, darling?" Ginny; Rosie who knows everything about cats; Arthur Judson who waited at the accident scene or somebody else? Discuss everyday heroes, and the ones you have met.  
Cleo teaches Rob and Helen to smile again. How appropriate is light heartedness in midst of tragedy?  
Despite advances in grief counselling many people are unwilling to talk openly about death, the death of children in particular. Would society be healthier if dying was regarded as a necessary part of living?
Was Cleo special, or do all pets have the capacity to improve people's lives?