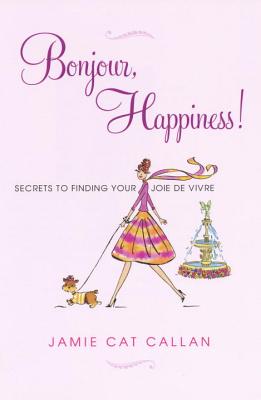 Bonjour, Happiness! (Paperback)
Secrets to Finding Your Joie De Vivre
Citadel Press, 9780806534107, 228pp.
Publication Date: April 1, 2011
* Individual store prices may vary.
Description
French women didn't invent happiness. But they know a thing or two about joie de vivre--being alive to each delicious moment. As a young girl, Jamie Cat Callan was fascinated by her French grandmother. Though she had little money, Jamie's grand-m re ate well, dressed well, and took joy in simple, everyday pleasures. As Jamie journeyed through France as an adult, she gained more insight into the differences between French and American women. French women--whether doctors, shop owners, or housewives--don't worry about being thin enough, young enough, or accomplished enough. They age gracefully and celebrate their bodies. They know how to balance their lives--to love food without overeating, to work hard but not too much, to relish friends and family, and still make time for themselves. Now Jamie draws on everything French women have taught her and shows you how to: Buy and consume less--and enjoy more Look like a million Euros on a few francs Find time to be alone Flirt la fran aise Rediscover your own mystery Perfection isn't attainable, but happiness always is. And this uplifting, revelatory book shows every woman how to embrace it--and savor it.
About the Author
JAMIE CAT CALLAN has lived in France, and has interviewed numerous French women. She has published books on the subjects of relationships and writing, and has been featured in the "Modern Love" column in the New York Times, as well as Best American Erotica, The Missouri Review, and Story and American Letters & Commentary. She currently teaches writing at Wesleyan University Graduate Liberal Studies Program, and lives with her husband in Cape Cod, Massachusetts.
or
Not Currently Available for Direct Purchase