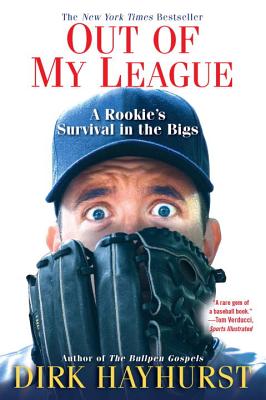 Out Of My League (Paperback)
A Rookie's Survival in the Bigs
Citadel, 9780806534862, 418pp.
Publication Date: February 28, 2012
Other Editions of This Title:
Hardcover (3/1/2012)
* Individual store prices may vary.
Description
A humorous, candid and insightful memoir of Hayhurst's rookie season in the majors. . .Grade: Home Run. --Cleveland Plain Dealer

After six years in the minors, pitcher Dirk Hayhurst hopes 2008 is the year he breaks into the big leagues. But every time Dirk looks up, the bases are loaded with challenges--a wedding balancing on a blind hope, a family in chaos, and paychecks that beg Dirk to answer, "How long can I afford to keep doing this?"

Then it finally happens--Dirk gets called up to the Majors, to play for the San Diego Padres. A dream comes true when he takes the mound against the San Francisco Giants, kicking off forty insane days and nights in the Bigs.

Like the classic games of baseball's history, Out of My League entertains from the first pitch to the last out, capturing the gritty realities of playing on the big stage, the comedy and camaraderie in the dugouts and locker rooms, and the hard-fought, personal journeys that drive our love of America's favorite pastime.

"A rare gem of a baseball book." --Tom Verducci, Sports Illustrated

"A fun read. . .This book shows why baseball is so often used as a metaphor for life." --Keith Olbermann

"Entertaining and engaging. . .reminiscent of Jim Bouton's Ball Four." --Booklist

"Observant, insightful, human, and hilarious." --Bob Costas
About the Author
Dirk Hayhurst is the New York Times bestselling author of The Bullpen Gospels, Out of My League, Bigger Than the Game, and the e-book Wild Pitches. Drafted from Kent State University in 2003 as a senior sign, Hayhurst pitched professionally for nine years on more than eight minor league teams and three major league teams—the San Diego Padres, the Toronto Blue Jays, and the Tampa Bay Rays. He has been a professional broadcaster and baseball analyst for the Toronto Blue Jays and Sportsnet Toronto, a contributor for ESPN with the Olbermann Show on ESPN 2, and a panelist on TBS's coverage of the MLB post season.  Visit him at www.dirkhayhurst.com.