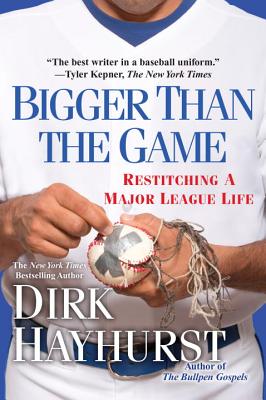 Bigger Than the Game
Restitching a Major League Life
Paperback

* Individual store prices may vary.
Description
"The best writer in a baseball uniform." --Tyler Kepner, The New York Times

After nearly a decade in the minors, Dirk Hayhurst defied the odds to climb onto the pitcher's mound for the Toronto Blue Jays. Newly married, with a big league paycheck and a brand new house, Hayhurst was ready for a great season in the Bigs.

Then fate delivered a crushing hit. Hayhurst blew out his pitching shoulder in an insane off-season workout program. After surgery, rehab, and more rehab, his major-league dreams seemed more distant than ever.

From there things got worse, weirder, and funnier. In a crazy world of injured athletes, autograph-seeking nuns, angry wrestlers, and trainers with a taste for torture, Hayhurst learned lessons about the game--and himself--that were not in any rulebook. Honest, soul?searching, insightful, hilarious, and moving, Dirk Hayhurst's latest memoir is an indisputable baseball classic.

Praise for The Bullpen Gospels and Out of My League

"Dirk Hayhurst writes about baseball in a unique way. Observant, insightful, human, and hilarious." --Bob Costas

"A fun read. . .This book shows why baseball is so often used as a metaphor for life." --Keith Olbermann

"Entertaining and engaging. . .reminiscent of Jim Bouton's Ball Four." --Booklist

"A rare gem of a baseball book." --Tom Verducci, Sports Illustrated

"A humorous, candid, and insightful memoir of Hayhurst's rookie season in the majors. . .Grade: Home Run." --Cleveland Plain Dealer
Citadel, 9780806534879, 320pp.
Publication Date: February 25, 2014
About the Author
Dirk Hayhurst is the New York Times bestselling author of The Bullpen Gospels, Out of My League, Bigger Than the Game, and the e-book Wild Pitches. Drafted from Kent State University in 2003 as a senior sign, Hayhurst pitched professionally for nine years on more than eight minor league teams and three major league teams—the San Diego Padres, the Toronto Blue Jays, and the Tampa Bay Rays. He has been a professional broadcaster and baseball analyst for the Toronto Blue Jays and Sportsnet Toronto, a contributor for ESPN with the Olbermann Show on ESPN 2, and a panelist on TBS's coverage of the MLB post season.  Visit him at www.dirkhayhurst.com.