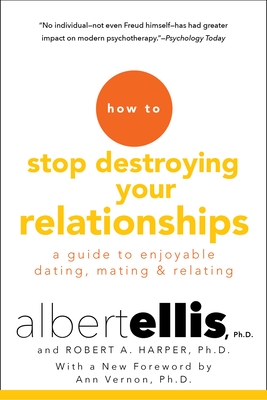 How To Stop Destroying Your Relationships
Paperback

* Individual store prices may vary.
Other Editions of This Title:
MP3 CD (10/25/2016)
Compact Disc (10/25/2016)
Compact Disc (10/25/2016)
Description
CLASSIC SELF-HELP FROM A RESPECTED PIONEER OF PSYCHOTHERAPY
 
Lost enough loves for three lifetimes? Want to break bad habits and replace them with good ones that last?
Whether you are male or female, single or married, gay or straight, Rational-Emotive Behavior Therapy (REBT), created by world renowned therapist Dr. Albert Ellis, can help anyone—at any age—learn to maintain healthy and lasting love. Simple and effective, the proven REBT techniques in this landmark book show you how to relate lovingly and intimately, for the long-term.
 
Using a nonjudgmental approach, here is more than just a guide to getting along better with a "significant other." You'll also find help for improving relationships with friends, children, and even in-laws. Discover practical information on:
 
*Getting Your Relationships Together by Getting Yourself Together
*Realistic Views of Couplehood
*Communicating and Problem-Solving
*Better Sex for Better Couplehood
*Saving Time and Money and Enjoying Life More
*Having or Not Having Children
*Building a Deep and Lasting Relationship
*Self-coping statements and exercises to keep you emotionally fit
 
…and much more to help you take matters into your own hands—and heart—and stop the cycle of relationship ruin. With healing doses of wisdom and humor, Dr. Ellis puts you firmly on the path toward a lifetime of love.
Citadel, 9780806538075, 240pp.
Publication Date: October 25, 2016
About the Author
Albert Ellis, Ph.D. founded Rational Emotive Behavior Therapy (REBT), the pioneering form of the modern Cognitive Behavior therapies. In a 1982 professional survey, Dr. Ellis was ranked as the second most influential psychotherapist in history. His name is a staple among psychologists, students, and historians around the world. He published over seven hundred articles and more than sixty books on psychotherapy, marital and family therapy, and sex therapy. Until his death in 2007, Dr. Ellis served as President Emeritus of the Albert Ellis Institute in New York, which provides professional training programs and psychotherapy to individuals, families and groups. To learn more, visit www.albertellis.org.

Robert A. Harper, Ph.D. was a psychology and sociology professor, a psychiatric social worker in the U.S. Army, and prominent marriage and family counselor. He wrote several books with Albert Ellis, including Creative Marriage, A Guide to Successful Marriage, and A Guide to Rational Living, among others. His Psychoanalysis and Psychotherapy: 36 Systems was one of his most influential books. He lived and practiced in Washington, D.C., until his passing in 2004.

Ann Vernon, Ph.D., Sc.D., PPC, is President of the Albert Ellis Board of Trustees, one of the first Diplomates of the Albert Ellis Institute, a member of the International Training Standards and Review Committee of the AEI, and a member of the Board of Consulting Advisors for the Journal of Rational-Emotive Cognitive-Behavior Therapy. Dr. Vernon is recognized as the leading international expert in applications of RE&CBT with children and adolescents and has written numerous books, chapters, and articles about counseling this population, including Thinking, Feeling, Behaving: An Emotional Education Curriculum, What Works When With Children and Adolescents: A Handbook of Individual Counseling Techniques, The Passport Program, and More What Works When With Children and Adolescents. Dr. Vernon is Professor Emerita, University of Northern Iowa. She currently conducts RE&CBT training programs around the world, as well as in the United States. She lives in Tucson, Arizona, and Wisconsin.