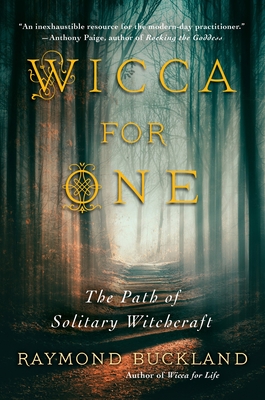 Wicca for One
The Path of Solitary Witchcraft
Paperback

* Individual store prices may vary.
Other Editions of This Title:
Compact Disc (7/31/2018)
MP3 CD (7/31/2018)
Paperback (9/1/2004)
Description
"A step-by-step guide to Wicca as a lifestyle; practical, easy to read, and no-nonsense in tone."
—Shelley Rabinovitch, author of The Encyclopedia of Modern Witchcraft and Neo-Paganism
 
The Father of American Wicca, Raymond Buckland, provides this indispensable, comprehensive handbook to the solitary practice of Wicca through every season of life.
 
For readers of The Green Witch by Arin Murphy-Hiscock and The Spell Book for New Witches by Ambrosia Hawthorn, this modern guide will help you learn to add depth to your solo practice from a master of his craft.  Wicca for One is a journey through expert advice on becoming a Witch and improving your life through magic.  
 
You will learn how to master spells, rites, traditions, and celebrations alone while learning the following:
 
·         The advantages and drawbacks of practicing solitary Wicca
·         Constructing the tools and sacred space needed to create magic every day
·         Using dreamwork, tarot cards, crystals, nature, astrology, and other divinations
·         Maintaining ethics without the guidance of a coven
·         Developing the power to heal and to ward off negativity
 
Let Wicca for One be your guide and inspiration as you travel the time-honored path of the solitary practitioner. 
 
"A complete handbook of rites, rituals, and ultimately personal empowerment. Truly a guide for magickal living, and for all seasons of life."
—Anthony Paige, author of Rocking the Goddess
Citadel, 9780806538662, 288pp.
Publication Date: July 31, 2018
About the Author
RAYMOND BUCKLAND is the British-born author of numerous books on practical magick, including the bestselling Buckland's Complete Book of Witchcraft, Practical Color Magick, and Practical Candleburning Rituals. A protégé of the late Dr. Gerald Gardner, he introduced Gardnerian Wicca to the United States in the 1960s and is a leading authority on Witchcraft, voodoo, and the supernatural. He lives in north central Ohio.