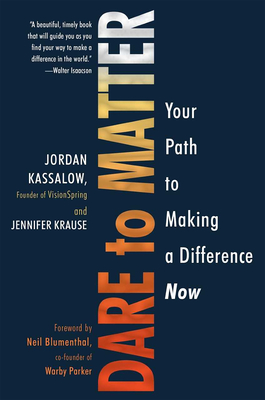 Dare to Matter
Your Path to Making a Difference Now
Hardcover

* Individual store prices may vary.
Other Editions of This Title:
Paperback (3/31/2020)
Praise For Dare to Matter: Your Path to Making a Difference Now…
Extraordinary Praise for Dare to Matter
 
"A stirring, hopeful reflection on life, faith, legacy, meaning, and love that will guide and encourage you to try just a little bit harder to let your reach exceed your grasp as you find your way to make a difference at home and in the world."
—Walter Isaacson, New York Times bestselling author
 
"An essential reminder that the greatest challenges of any age are no match for the good will, love, passion, and potential that abides in all human beings. I hope this superb book will inspire its readers to follow in Jordan's footsteps in making a difference for all."
—Madeleine K. Albright, former Secretary of State
 
"In an era when young people are compelled to find purpose, yet they too often find themselves stressed and anxious, Jordan offers a sustainable and impactful path, grounded in the clarity of his own experience with VisionSpring."   
—Sylvia Burwell, President of American University and former Secretary of Health and Human Services
 
"As feelings of cynicism, apathy, and hopelessness threaten to divide people and asphyxiate progress, Dare to Matter is a breath of fresh, hopeful air. This book will restore your faith in what is possible, and inspire you to devote your personal power to making positive, meaningful change."
—Darren Walker, President, Ford Foundation
 
"Dare to Matter should be required reading for anyone who dreams of making a difference. The book shines with hard-earned wisdom embedded in spiritual ground and girded with practical advice. You will be inspired, enlivened and possibly, forever changed in all good ways."
—Jacqueline Novogratz, CEO, Acumen and author of The Blue Sweater
 
"This book is an amazing gift. It shows us that the best way to develop fully who we uniquely are is to dare repeatedly over life to change the world. Because that's what Jordan Kassalow has done, and because he's so very reflective/observant and clear, the reader's journey to this understanding is in rich comfort."
—Bill Drayton, Founder and CEO of Ashoka
 
"Are you doing the things that make you most fulfilled in life? Are you having a positive impact on the people and the world around you? Jordan Kassalow has helped me answer these questions with the lessons artfully distilled in this important book."
—Jeff Raider, Co-founder & Co-CEO Harry's, Inc.
Citadel, 9780806539027, 288pp.
Publication Date: April 30, 2019
About the Author
Jordan Kassalow is an optometrist and social entrepreneur. He is a partner at a thriving practice in New York City and is also the Founder of VisionSpring, an award-winning social business that works to restore eyesight to the more than 2.5 billion people who live in the developing world in extreme poverty and need nothing more than a simple pair of eyeglasses to see. VisionSpring has been internationally recognized by the Skoll Foundation, the World Economic Forum, the Aspen Institute, and the World Bank. Since 2001, it has distributed over 5 million pairs of eyeglasses. Jordan is also the co-Founder of the EYElliance, a coalition of multi-sector experts including public, private, academic, and NGO partners. EYElliance functions as a leader, convener, and coordinator to channel collective efforts to address the global unmet need for eyeglasses. Jordan was also the Founder of the Global Health Policy Program at the Council on Foreign Relations where he is a life member and is a fellow of Draper Richards Kaplan, Skoll, Ashoka, and is a Henry Crown Fellow at the Aspen Institute. He was named one of the Schwab Foundation's 2012 Social Entrepreneurs, was the inaugural winner of the John P. McNulty Prize, and was recently named to Forbes Impact 30. For more information on VisionSpring, please visit visionspring.org.
 
Jennifer Krause is a rabbi and the author of The Answer: Making Sense of Life, One Question at a Time. Her writing and commentary have been featured in Newsweek, The New York Times, The Huffington Post, The Daily Beast, Time.com, and O Magazine. Dubbed "one of NYC's Hippest Rabbis" and "the Jewish Katie Couric" by WNET's MetroFocus, Jennifer served as the High Holidays rabbi at Manhattan's 92Y, the first woman to hold that post in 92Y's 145 year history. Jennifer is also a member of the Council on Foreign Relations Religion and Foreign Policy Initiative, a network of religious and congregational leaders, scholars, and thinkers of all backgrounds and affiliations who come together for nonpartisan, cross-denominational conversations on global issues.