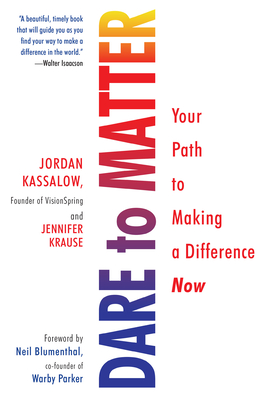 Dare to Matter
Your Path to Making a Difference Now
Paperback

* Individual store prices may vary.
Other Editions of This Title:
Hardcover (4/30/2019)
Description
Foreword by Neil Blumenthal, co-founder of Warby Parker
 
"A beautiful, timely book that will guide you as you find your way to make a difference in the world."
—Walter Isaacson

You don't have to be a billionaire philanthropist, give up your day job, or wait for retirement to make a difference in the world. You can start now.
 
We all want to make the world a better place, but with busy, demanding lives, most of us struggle with the where, when, and how. Dr. Jordan Kassalow, founder of VisionSpring, the groundbreaking venture that has restored eyesight and hope to millions of people across the globe, has the answers: here, now, and in your own way. Sharing his personal story of integrating real-world responsibilities with his desire to make a difference, Jordan offers you a practical way forward, custom-made for your unique talents and circumstances, to take you from thought to action.
 
The soulful and pragmatic approach in this remarkable book will help you see with your heart and use your head to invest in your highest goals—while still earning a paycheck, being there for those you love, and enjoying life. To dare to matter, today.
 
"An essential reminder that the greatest challenges of any age are no match for the good will, love, passion, and potential that abides in all human beings. I hope this superb book will inspire its readers to follow in Jordan's footsteps in making a difference for all."
—Madeleine K. Albright, former Secretary of State
 
"Dare to Matter should be required reading for anyone who dreams of making a difference. The book shines with hard-earned wisdom embedded in spiritual ground and girded with practical advice. You will be inspired, enlivened and possibly, forever changed in all good ways."
—Jacqueline Novogratz, CEO, Acumen and author of The Blue Sweater
Citadel, 9780806539034, 288pp.
Publication Date: March 31, 2020
About the Author
Jordan Kassalow is a partner at a thriving optometry practice in New York City and the Founder of VisionSpring, an award-winning social business that has distributed more than 6 million pairs of eyeglasses to underserved people who live in the developing world and need nothing more than a simple pair of eyeglasses to see. VisionSpring has earned international recognition from the World Bank, the Aspen Institute, the World Economic Forum, Duke University and many others Jordan is also the co-Founder of the EYElliance, a multi-sector coalition that drives the global strategy to increase access to eyeglasses. Jordan was also the Founder of the Global Health Policy Program at the Council on Foreign Relations where he is a life member. For more information on VisionSpring and EYElliance, please visit visionspring.org or EYElliance.org.

Jennifer Krause is a rabbi and the author of The Answer: Making Sense of Life, One Question at a Time. Her writing and commentary have been featured in publications such as Newsweek, The New York Times, and O, the Oprah Magazine. Dubbed "one of NYC's Hippest Rabbis," Jennifer served as the High Holidays rabbi at Manhattan's 92Y, the first woman to hold that post in 92Y's 145-year history. Jennifer is also a member of the Council on Foreign Relations Religion and Foreign Policy Initiative.