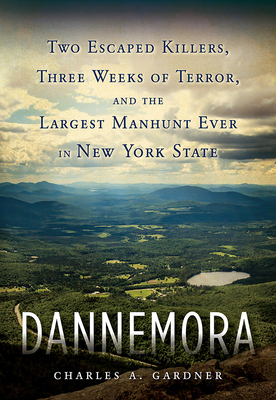 Dannemora
Two Escaped Killers, Three Weeks of Terror, and the Largest Manhunt Ever in New York State
Hardcover

* Individual store prices may vary.
Other Editions of This Title:
Digital Audiobook (2/25/2019)
Paperback (2/25/2020)
Compact Disc (2/26/2019)
Description
The Prison Break, the Manhunt, the Inside Story
 
In June 2015, two vicious convicted murderers broke out of the Clinton Correctional Facility in Dannemora, in New York's North Country, launching the most extensive manhunt in state history. Aided by prison employee Joyce Mitchell, double murderer Richard Matt and cop-killer David Sweat slipped out of their cells, followed a network of tunnels and pipes under the thirty-foot prison wall, and climbed out of a manhole to freedom.
 
For three weeks, the residents of local communities were virtual prisoners in their own homes as law enforcement from across the nation swept the rural wilderness near the Canadian border. The manhunt made front-page headlines—as did the prison sex scandal involving both inmates and Joyce Mitchell—and culminated in a dramatic and bloody standoff.
 
Now Charles A. Gardner—a lifelong resident of the community and a former correction officer who began his training at Clinton and ultimately oversaw the training of staff in twelve prisons, including Clinton—tells the whole story from an insider's point of view.
 
From the lax ethics and sexual hunger that drove Joyce Mitchell to fraternize with Matt and Sweat, smuggle them tools, and offer to be their getaway driver, to the state budget cuts that paved the way for prison corruption, to the brave and tireless efforts to bring the escaped killers to justice, Dannemora is a gripping account of the circumstances that led to the bold breakout and the twenty-three-day search that culminated in one man dead, and one man back in custody—and lingering questions about those who set the deadly drama in motion.
Praise For Dannemora: Two Escaped Killers, Three Weeks of Terror, and the Largest Manhunt Ever in New York State…
Praise for Dannemora
 
"Some say the justice system doesn't work or is warped. They may be partially correct. But there are those in the system who devote themselves tirelessly to make it work. If you want to know who they are, you must read this book. It is more than just a page-turner—it is a true story about people who are dedicated to seeking justice."
—New York Times bestselling author Robert K. Tanenbaum
 
"Charles Gardner's eye-opening, provocative new book about the 2015 prison escape of convicted killers Richard Matt and David Sweat is a unique perspective from this author, a lifelong resident of New York's North Country and 25-year corrections professional. Gardner answers important questions as to how the violent criminals were able to break out of a maximum-security facility, who helped them, and why. The book shows the heroic behavior of law enforcement as well as local civilians during the three-week manhunt. With meticulous detail, Dannemora provides a dramatic timeline of a true story, full of shocking twists and turns, and close-up portraits of the people who lived it. I was deeply engrossed in this story, which I thought I knew—that is, until now."
—New York Times bestselling author M. William Phelps
 
"Dannemora is an exciting read, full of shocking revelations about the prison escape of two stone-cold killers, the high-level bad decisions that allowed it to happen, and the heroic law enforcement efforts in the three-week manhunt. Charles Gardner takes us behind the scenes of a community under lockdown. Don't miss this stunning true story."
—New York Times bestselling author Gregg Olsen

"Gripping… Gardner's own background as a former corrections officer in the New York state prison system enables him to focus on root causes that made the escape possible…True crime fans will be more than satisfied."
—Publishers Weekly 
 
"Dramatic…. A true community insider's perspective on a legendary manhunt."
—Booklist


Citadel, 9780806539249, 304pp.
Publication Date: February 26, 2019
About the Author
Charles A. Gardner is a municipal court judge and retired correction training lieutenant in Malone, New York, the far-upstate town where he was born and raised. His twenty-five-year career in New York State Department of Corrections included working as a correction officer, sergeant, and lieutenant. He had experience working in medium- and maximum-security facilities including stints at Clinton Correctional Facility in Dannemora and the maximum-security prisons of Sing Sing, Bedford Hills, Great Meadow, and Upstate. Gardner served on the Department of Corrections' emergency response team (CERT), which played a critical role in the search for the 2015 prison escapees. He lives with his wife, Penny, and their Samoyeds, in the North Country. Visit him at www.charlesagardner.com.