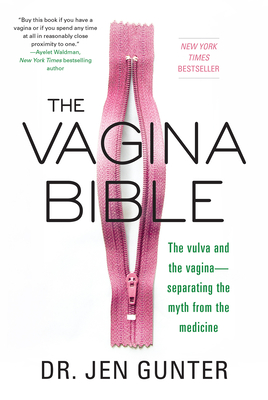 The Vagina Bible (Paperback)
The Vulva and the Vagina: Separating the Myth from the Medicine
Citadel, 9780806539317, 432pp.
Publication Date: August 27, 2019
* Individual store prices may vary.
Description
Does eating sugar cause yeast infections? Does pubic hair have a function?
Should you have a vulvovaginal care regimen?
Will your vagina shrivel up if you go without sex?
What's the truth about the HPV vaccine?
 
So many important questions, so much convincing, confusing, contradictory misinformation! In this age of click bait, pseudoscience, and celebrity-endorsed products, it's easy to be overwhelmed—whether it's websites, advice from well-meaning friends, uneducated partners, and even healthcare providers. So how do you separate facts from fiction? OB-GYN Jen Gunter, an expert on women's health—and the internet's most popular go-to doc—comes to the rescue with a book that debunks the myths and educates and empowers women. From reproductive health to the impact of antibiotics and probiotics, and the latest trends, including vaginal steaming, vaginal marijuana products, and jade eggs, Gunter takes us on a factual, fun-filled journey. Discover the truth about:
 
·         The vaginal microbiome
·         Genital hygiene, lubricants, and hormone myths and fallacies 
·         How diet impacts vaginal health
·         Stem cells and the vagina
·         Cosmetic vaginal surgery
·         What changes to expect during pregnancy, after childbirth, and through menopause
·         How medicine fails women by dismissing symptoms
Plus:
·         Thongs vs. lace: the best underwear for vaginal health
·         How to select a tampon
·         The full glory of the clitoris and the myth of the G Spot
 
… And so much more. Whether you're a twenty-six-year-old worried that her labia are "uncool" or a sixty-six-year-old dealing with painful sex, this comprehensive guide is sure to become a lifelong trusted resource.
About the Author
Jen Gunter, MD, is an OB/GYN and a pain medicine physician. She writes a lot about sex, science, and social media, but sometimes she writes about other things because, well, why not? She has been called Twitter's resident gynecologist, the Internet's OB/GYN, and one of the fiercest advocates for women's health. She first started her quest to help provide quality information by writing The Preemie Primer, a guide for parents of premature babies. In addition to her academic publications, her writing has appeared in places like The New York Times, The Cut, USA Today, The Hill, and Self.  She has taken on politicians, celebrities, and the press over misinformation and fake news about women's health care.
 
Dr. Gunter was born and raised in Winnipeg, Canada, and graduated from The University of Manitoba School of Medicine in 1990 at the age of 23. In 1995 she completed her OB/GYN training at the University of Western Ontario and moved to the United States to complete a fellowship in infectious diseases at the University of Kansas. After completing her fellowship she continued studies in pain medicine. She is board certified in OB/GYN in both Canada and the United States. She is also board certified in pain medicine. Dr. Gunter lives in the San Francisco Bay Area with her two sons, her chocolate lab, and her one-eyed cat Luna.
Praise For The Vagina Bible: The Vulva and the Vagina: Separating the Myth from the Medicine…
"Dr. Jen Gunter is a fountain of critically important information and she's funny as hell. Buy this book if you have a vagina or if you spend any time at all in reasonably close proximity to one."
—Ayelet Waldman, New York Times bestselling author of A Really Good Day

"The Vagina Bible - Dr. Jen Gunter's savvy, detailed, funny and wise guide to female health - should be required reading for every woman seeking smart information about her body. I don't say this often but it's a don't miss book."
—Deborah Blum, New York Times bestselling author of The Poison Squad

"Men who want to understand the experiences of their partners or provide sound guidance to their daughters should turn to The Vagina Bible. Jen Gunter offers authoritative information with her trademark clarity and good humor." 
—Carl Zimmer, author of She Has Her Mother's Laugh

"This book is basically everything you've ever wanted to know about the vagina but were afraid to ask."
—Imani Gandy, Senior Legal Analyst, Rewire News

"In a time where pseudoscience has a large foothold, it is vital that physicians and scientists meet any reader where they live. With The Vagina Bible, Dr. Gunter has done exactly that! Her writing is rooted in science and steeped with humor and insight while the book is both inclusive and instructive. A vital book that will undoubtedly have an profound impact."
—Mark Shapiro, MD, Founder and Host, Explore The Space podcast

"Whether she is debunking the damage done by Freud or providing the low down on the science of sex, she provides a frank, funny and thoroughly science-informed perspective. This is the exact kind of book the world needs right now.  Gunter pulls no punches and provides a clear and concise summation of the facts on every vagina-related topic you can think of. Seriously. Everything. The world needs more Jen!"
—Professor Timothy Caulfield, author of Is Gwyneth Paltrow Wrong About Everything....