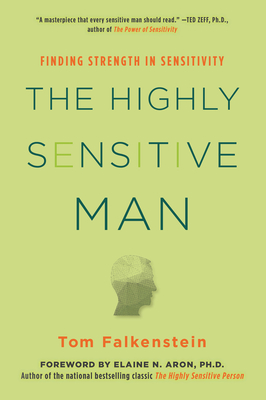 The Highly Sensitive Man
How Mastering Natural Insticts, Ethics, and Empathy Can Enrich Men's Lives and the Lives of Those Who Love Them
Paperback

* Individual store prices may vary.
Other Editions of This Title:
Hardcover (8/27/2019)
Description
Although high sensitivity affects both men and women equally, being a highly sensitive man comes with unique challenges. Working closely with Dr. Elaine Aron - the originator of The Highly Sensitive Person--cognitive behavioral psychotherapist Tom Falkenstein offers the only book written specifically for highly sensitive men and those who love them.

Bestselling classic and global phenomenon The Highly Sensitive Person has helped millions of people around the world. Now Elaine Aron's colleague offers help and hope for men with high sensitivity and the unique problems they face.

Highly sensitive people think deeply, empathize instinctively, and tend to behave in an ethical way that benefits everyone. Today, with the negative effects of "toxic masculinity" and aggressive behavior in evidence all around us, we need highly sensitive people--especially men--more than ever. Yet for men in particular, being highly sensitive brings distinct challenges, such as gender stereotypes that portray them as too emotional or not "manly" enough.

Cognitive behavioral psychotherapist Tom Falkenstein offers the first psychological guide that specifically addresses highly sensitive men and those who care about them, and explores the unique advantages and obstacles they face. Drawing from his training with pioneer in the field Dr. Elaine Aron, and his own groundbreaking work, Falkenstein incorporates the most up-to-date research on high sensitivity--what it is and isn't--how it relates to male identity, and provides one-of-a-kind advice and practical tools.

Including an illuminating conversation with Dr. Aron, The Highly Sensitive Man is an invaluable book that will help redefine masculinity and reveal how high sensitivity can enrich men's lives, their communities, and the lives of those who love them.

"A book that cracks open the conversation about how men can blend their strength, sensitivity and unique gifts into a more modern and whole definition of what it is to be a man."
--Alanis Morissette, singer, songwriter, activist

"Rooted in the rigorous science of sensory processing sensitivity . . . provides numerous ways we can grow into our own skins."
--Tracy Cooper, PhD, author of Thrill!: The High Sensation Seeking Highly Sensitive Person
Citadel, 9780806539331, 272pp.
Publication Date: April 28, 2020
About the Author
TOM FALKENSTEIN has worked in the mental health sector since 1999 and as a cognitive behavioral psychotherapist since 2006. After obtaining his degree in psychology at the University of Glasgow, he completed his five-year postgraduate training in psychotherapy in Berlin. He then moved back to the UK where he worked as a psychotherapist in London. During this period, he developed a particular interest in high sensitivity and working with highly sensitive people.  He has been training with Dr. Elaine Aron (author of The Highly Sensitive Person) since 2015 and has founded the European Centre for High Sensitivity (www.hsp-eu.com). Currently practicing in Berlin, he also offers consultations for highly sensitive people in both English and German. The Highly Sensitive Man is his first book and was published in Germany by Junfermann in September 2017. It has been translated into a number of other languages.