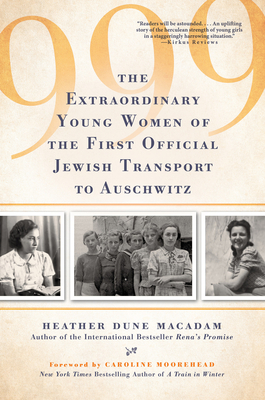 999
The Extraordinary Young Women of the First Official Jewish Transport to Auschwitz
Paperback

* Individual store prices may vary.
Other Editions of This Title:
Hardcover (12/31/2019)
Compact Disc (12/31/2019)
MP3 CD (12/31/2019)
Description
A Goodreads Choice Awards Nominee

From acclaimed author Heather Dune Macadam, the previously untold story of the 999 young, unmarried Jewish women who were tricked on March 25, 1942 into boarding the train that became the first official transport to Auschwitz.

On March 25, 1942, nearly a thousand young, unmarried Jewish women boarded a train in Poprad, Slovakia. Filled with a sense of adventure and national pride, they left their parents' homes wearing their best clothes and confidently waving good-bye. Believing they were going to work in a factory for a few months, they were eager to report for government service. Instead, the young women--many of them teenagers--were sent to Auschwitz. Their government paid 500 Reichsmarks (about $200) apiece for the Nazis to take them as slave labor. Of those 999 innocent deportees, only a few would survive.

The facts of the first official Jewish transport to Auschwitz are little known, yet profoundly relevant today. These were not resistance fighters or prisoners of war. There were no men among them. Sent to almost certain death, the young women were powerless and insignificant not only because they were Jewish--but also because they were female. Now acclaimed author Heather Dune Macadam reveals their poignant stories, drawing on extensive interviews with survivors, and consulting with historians, witnesses, and relatives of those first deportees to create an important addition to Holocaust literature and women's history.
Citadel, 9780806539379, 464pp.
Publication Date: January 26, 2021
About the Author
Heather Dune Macadam's is the acclaimed author of 999: The Extraordinary Young Women of the First Official Jewish Transport to Auschwitz and Rena's Promise: A Story of Sisters in Auschwitz. A board member of the Cities of Peace: Auschwitz and the director and president of the Rena's Promise Foundation, her work in the battle against Holocaust denial have been recognized by Yad Vashem in the UK and Israel, the USC Shoah Foundation, the National Museum of Jewish History in Bratislava, Slovakia, and the Panstowe Museum of Auschwitz in Oswiecim, Poland. Ms. Macadam has a master's degree in creative writing and received a Presidential Grant for Research from Savannah College of Art and Design, and a PEN American stipend. She is the Producer and Director of the documentary film, 999: The Extraordinary Young Women of the First Official Jewish Transport to Auschwitz and her work has been featured in National Geographic, on PBS, and other major media outlets. Visit Heather Dune Macadam online at HeatherDune.com or find more information on 999 at 999TheMovie.com.