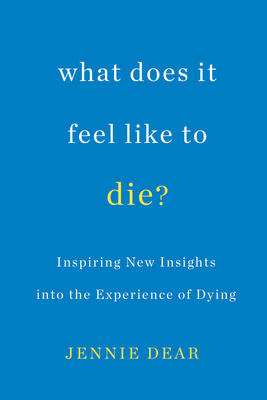 What Does It Feel Like to Die?
Inspiring New Insights into the Experience of Dying
Paperback

* Individual store prices may vary.
Description
A compassionate, honest, and illuminating look at the dying process . . .
 
As a long-time hospice volunteer, Jennie Dear has helped countless patients, families, and caregivers cope with the many challenges of the dying process. Inspired by her own personal journey with her mother's long-term illness, Dear demystifies the experience of dying for everyone whose lives it touches. She spoke to doctors, nurses, and caregivers, as well as families, friends, and the patients themselves. The result is a brilliantly researched, eye-opening account that combines the latest medical findings with sensitive human insights to offer real emotional support and answers to some of the questions that affect us all.
 
Does dying hurt?
A frank discussion of whether dying has to be painful—and why it sometimes is even when treatment is readily available.
 
Is there a better way to cope with dying?
Comforting stories of people who found peace in the face of death , and some of the expert methods they used for getting there.
 
The last few hours: What does it feel like to die?
Powerful glimpses from dedicated professionals into the physical experiences of people in their final moments—plus comforting words and insights from those who are there to help.
Praise For What Does It Feel Like to Die?: Inspiring New Insights into the Experience of Dying…
"Hospice volunteer Dear pieces together the experience of dying in this affecting work … What sets this apart from the many other well-sourced books on the end of life is Dear's generosity and forthrightness. Readers curious about or ready to accept death will find solace and inspiration in this excellent investigation." 
—Publishers Weekly STARRED REVIEW
Citadel, 9780806539867, 256pp.
Publication Date: June 25, 2019
About the Author
Jennie Dear is a former journalist and associate professor of English, and a long-time hospice volunteer. She received her Ph.D. from the University of New Mexico, wrote articles for local newspapers, and taught for ten years at Fort Lewis College in Durango.