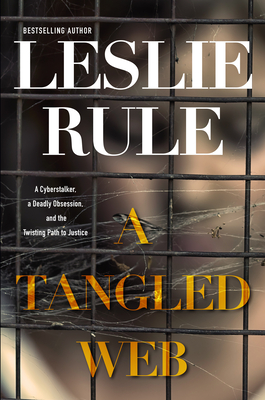 A Tangled Web
A Cyberstalker, a Deadly Obsession, and the Twisting Path to Justice.
Hardcover

* Individual store prices may vary.
Other Editions of This Title:
Digital Audiobook (4/30/2020)
Paperback (3/30/2021)
Compact Disc (5/1/2020)
MP3 CD (5/1/2020)
Description
You know the #1 New York Times bestselling author Ann Rule, "America's best true-crime writer" (Kirkus Reviews), from her unforgettable classic The Stranger Beside Me, now get ready to meet the heiress of her True Crime legacy, her daughter, Leslie Rule. 
 
It was a bleak November in 2012 when Cari Lea Farver vanished from Omaha, Nebraska.  Cari, thirty-seven, was a devoted mother, reliable employee, and loyal friend—not the type to shirk responsibilities, abandon her son, and run off on an adventure while her dying father took his last breaths.  Yet, the many texts from her phone indicated she had done just that. 
 
It appeared that Cari had dumped her new boyfriend, quit her job, and relinquished custody of her son to her mother—all by text.  While Cari's boyfriend, Dave Kroupa, and her supervisor were bewildered by her abrupt disappearance, they accepted the texts at face value.  Her mother, Nancy Raney, however, was alarmed and reported Cari missing.  Police were skeptical of her claims that a cyber impostor had commandeered her daughter's phone and online identity. 
 
While Nancy was afraid for Cari, Dave Kroupa was growing afraid of her, for he believed Cari was stalking him.  Never seen or heard, the stalker was aware of his every move and seemed obsessed with his casual girlfriend, Shanna "Liz" Golyar, often calling her "a fat whore" in the twelve thousand emails and texts he received in a disturbing three-year deluge.
 
How did the stalker know Dave's phone numbers immediately after he changed them, the names of his lady friends, even what he wore as he watched TV? He and Liz reported death threats, vandalism, and burglaries, but the stalker remained at large.  The threats were vicious, vile and often obscene, sent mostly via text and always in Cari's name.  There was some truth in the messages, but all of them contained one big lie.  The culprit was not Cari, but had killed and planned to kill again. 
 
With mesmerizing detail and compelling narrative skill, Leslie Rule tracks every step of the heart-pounding path to long-awaited justice—from a sociopath's twisted past to the deadly deception and the high-tech forensics that condemned the killer to prison.
Praise For A Tangled Web: A Cyberstalker, a Deadly Obsession, and the Twisting Path to Justice.…
Praise for A TANGLED WEB
 
"Leslie Rule delivers an incredible story of obsession and deceit, a one-woman campaign of terror that could only exist in our digital age. Harrowing."
—Maureen Callahan, New York Times bestselling author of American Predator: The Hunt for the Most Meticulous Serial Killer of the 21st Century
 
"We expect a tangled tale to have an exquisite twist, and Leslie Rule brings it home. In the tradition of her mother, true crime author Ann Rule, she presents a gripping case of fatal obsession and stolen identity so bizarre it's hard to believe it's true. Rule's first true crime book hits the mark."
—Katherine Ramsland, author of Confession of a Serial Killer: The Untold Story of Dennis Rader the BTK Killer
 
"The murder was straightforward, but the cover-up was as intricate as the impressive artistry of a garden spider.  In A Tangled Web, Leslie Rule artfully weaves the strands of a monstrous net that ultimately ensnared its evil perpetrator.  A fascinating, incredible read."
—Diane Fanning, Edgar finalist and author of Death on the River
 
"Following in her famous mother's footsteps, Leslie Rule deftly explores the strange case of a bizarre love triangle, a cyberstalking impostor, and a terrifying fatal attraction that leads to a deadly obsession."
—Kathryn Casey, bestselling author of In Plain Sight
 
"With a journalist's eye for detail and a storyteller's compelling voice, Leslie Rule draws readers into the world of a diabolical criminal and her victims. A Tangled Web will leave you with lingering feelings that evil walks among us, in plain sight, even in the idyllic Midwest."
—Axton Betz-Hamilton, author of The Less People Know About Us: A Mystery of Betrayal, Family Secrets, and Stolen Identity
 
"Leslie Rule's recipe for A Tangled Web takes one depraved killer, adds broken-hearted victims, mixes in cutting-edge crime fighting, and whips it all into a sexy and spell-binding souffle. Bon appétit!"
—Dawna Kaufmann, co-author of A Question of Murder, From Crime Scene to Courtroom and Final Exams: True Crime Cases from Cyril Wecht
 
"In A Tangled Web, Leslie Rule shows that she is truly her mother's daughter, down to the expert detailing that defined Ann Rule, but with this told in a high-tech world. Rule guides the reader down a slippery slope, with twists and turns of text messaging and online dating, ultimately revealing just how cagey are the deeds of the devious perpetrator."
—Cathy Scott, author of The Crime Book and the Los Angeles Times bestseller The Killing of Tupac Shakur
Citadel, 9780806539973, 304pp.
Publication Date: April 28, 2020
About the Author
Leslie Rule is a Seattle area artist, photographer and bestselling author of two suspense novels, five nonfiction books, and dozens of articles in national magazines, including Reader's Digest.  At seventeen, she began to work with her mother, author Ann Rule, as research assistant and trial photographer. Many of Leslie's courtroom photos appear in her mother's books.  Visit Leslie's website: authorleslierule.com.