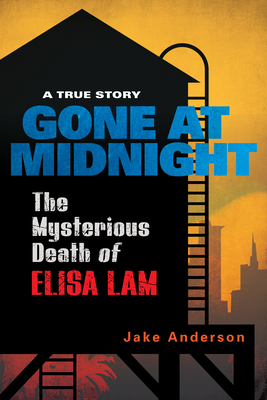 Gone at Midnight
The Tragic True Story Behind the Unsolved Internet Sensation
Hardcover

* Individual store prices may vary.
Other Editions of This Title:
Paperback (7/26/2022)
Compact Disc (3/24/2020)
Description
A Fortune Magazine "Most Anticipated Books of 2020" Selection
A Goodreads Featured Release for February 2020
Oxygen's List of "Best True Crime Books of 2020" Selection

"The Cecil Hotel in Los Angeles is a palpable presence in Gone at Midnight: The Mysterious death of Elisa Lam by Jake Anderson… While allowing for other possible interpretations (and minimizing the daunting logistics), Anderson believes that Lam was murdered, the victim of a "traumatic sexual attack" by one or more assailants. Or something. Given the checkered history of the Cecil Hotel (which was recently named to the Los Angeles registry of historic landmarks), I wouldn't rule out Jack the Ripper."
—The New York Times


A Los Angeles hotel with a haunting history. A missing young woman. A disturbing video followed by a shocking discovery. A cold-case mystery that has become an internet phenomenon—and for one determined journalist, a life-changing quest toward uncomfortable truths. Perfect for Murderinos looking for their next fix…
 
Twenty-one-year-old Vancouver student Elisa Lam was last heard from on January 31, 2013, after she checked into downtown L.A.'s Cecil Hotel—a 600-room building with a nine-decade history of scandal and tragedy. The next day, Elisa vanished. A search of the hotel yielded nothing. More than a week later, complaints by guests of foul-smelling tap water led to a grim discovery: Elisa's nude body floating in a rooftop water tank, in an area extremely difficult to access without setting off alarms. The only apparent clue was a disturbing surveillance video of Elisa, uploaded to YouTube in hopes of public assistance.
 
As the eerie elevator video went viral, so did the questions of its tens of millions of viewers. Was Elisa's death caused by murder, suicide, or paranormal activity? Was it connected to the Cecil's sinister reputation? And in that video, what accounted for Elisa's strange behavior? With the help of web sleuths and investigators from around the world, journalist Jake Anderson set out to uncover the facts behind a death that had become a macabre internet meme, as well as a magnet for conspiracy theorists.
 
In poring through Elisa's revealing online journals and social-media posts, Anderson realized he shared more in common with the young woman than he imagined. His search for justice and truth became a personal journey, a dangerous descent into one of America's quiet epidemics. Along the way, he exposed a botched investigation and previously unreported disclosures from inside sources who suggest there may have been a corporate conspiracy and a police cover-up. In Gone at Midnight, Anderson chronicles eye-opening discoveries about who Elisa Lam really was and what—or whom—she was running from, and presents shocking new evidence that may re-open one of the most chilling and obsessively followed true crime cases of the century.

"Outstanding…true crime buffs won't want to miss this gripping search for the truth."
—Publishers Weekly STARRED REVIEW
Praise For Gone at Midnight: The Tragic True Story Behind the Unsolved Internet Sensation…
Praise for GONE AT MIDNIGHT
 
Oxygen's List of Best True Crime Books of 2020
 
"Investigative journalist Anderson looks into the case of 21-year-old Elisa Lam, a student diagnosed as bipolar who vanished from L.A.'s seedy Cecil Hotel one day in 2013, in this outstanding debut. Anderson ponders whether it was suicide or a psychotic breakdown—or something more sinister that killed Lam. Anderson also vividly details the dark delusions he suffered while making a documentary at the Cecil Hotel. What really happened to Lam may never be known, but true crime buffs won't want to miss this gripping search for the truth."
—Publishers Weekly STARRED REVIEW
 
"Rather than exploiting Lam's death as a morbid meme, Anderson takes an empathic and humanizing approach. His thorough research and passionate writing make a fascinating read. Extremely detailed and featuring new evidence, this book is recommended to anyone who loves to dive down a rabbit hole."
—Booklist
 
"From mediations on quantum mechanics and the meaning of consciousness, Gone at Midnight is not the typical true crime potboiler. It represents an evolution of the genre, with one infamous crime giving way to Gonzo-like reflections, cultural criticism, and a writing style that befits both the book form and the Internet blog. Gone at Midnight is the type of true crime book that you stay up all night reading. It is also the type of work that raises more questions than answers, and that's perfectly okay."
—New York Journal of Books
 
"This chilling tale of obsession and gruesomeness is great for murder-mystery fans who also like a bit of paranormal sprinkled in. Turn on the lights, don't read at night, and Gone at Midnight could be just right."
—The Bookworm, Nationally Syndicated Column
 
"The definitive book on Elisa Lam is finally here. Gone at Midnight is both an investigation into one of the Internet's most frustrating mysteries and a personal exploration of depression and suicidal ideation. Jake Anderson continues the tradition of New Journalism and gonzo reporting by weaving a personal story of mental health and anguish with a confounding L.A. mystery."
—James Renner, author of True Crime Addict
 
"Sharply written with a journalistic nose for facts and detail, Jake Anderson's Gone at Midnight captures the essence of a breaking true crime story and what goes on behind the scenes as the search for a missing person turns deadly. The twists and turns are remarkably sketched by an up-and-coming author who has complete control over his narrative. Add a bit of paranormal into the mix and what we have is riveting ... scary, compelling ... and expertly told."
—M. William Phelps, New York Times bestselling author
Citadel, 9780806540054, 368pp.
Publication Date: February 25, 2020
About the Author
Jake Anderson is a writer, filmmaker, investigative journalist, activist, and digital publisher. He runs the popular website The Ghost Diaries and is a contributing journalist for The Anti Media and multiple alternative media outlets. He has been a featured guest on Ground Zero with Clyde Lewis, Spaced Out, Nocturnal Frequency, West of the Rockies, and Common Ground. Originally from Little Rock, Arkansas, he's a graduate of the University of California at Santa Cruz and currently lives near Albuquerque, New Mexico. Find more of his work at TheGhostDiaries.com, where he analyzes cold cases and unexplained mysteries. Follow him on twitter @OverTheMoonSF.