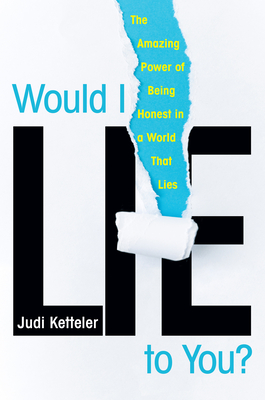 Would I Lie to You?
The Amazing Power of Being Honest in a World That Lies
Hardcover

* Individual store prices may vary.
Other Editions of This Title:
Paperback (1/26/2021)
Description
Inspired by her popular New York Times article, "How Honesty Could Make You Happier," award-winning journalist Judi Ketteler takes a deep dive into the hard truths about honesty, from her own personal story to the exploding field of research on the subject, at a time when the world seems full of dishonesty—from elected officials, to corporate leaders, to tabloid-like fakery that gets passed off as news . . .
 
We all want the truth, don't we? In fact, we demand it.  We divorce spouses who withhold it. We insist our children practice it. We're hurt when our friends don't divulge it. We're incensed by politicians who invent it. But when it comes to our own behavior, how often do we transgress? Out of diplomacy, kindness, sympathy, and privacy we don't always tell the truth. Yet we often barely notice. So, what happens when we do notice? When we truly focus on the decisions we're making around honesty? When we view our entire life through the lens of honesty?
 
Award-winning journalist and New York Times contributor Judi Ketteler looked at her Facebook page and saw a content mother, a generous friend and sister, a good daughter, and a wife with a happy marriage. It wasn't quite the whole story though. In thinking about all the truths she wasn't revealing, Judi realized that the line between truth and deception was beginning to blur. How often had she herself paltered, exaggerated, concealed, side-stepped, or spun the truth? To answer that question, Judi started her "Honesty Journal." She set out to get to the bottom of her complicated relationship with honesty and confronted her perennial fear of speaking the truth in social situations, among friends, in the workplace, with her kids—and finally, inside her complicated marriage.
 
Blending her personal journey with the latest research into the psychology of deception, Would I Lie to You? is a timely consideration of the joys and pains of truth in a world that seems committed to lying.
Praise For Would I Lie to You?: The Amazing Power of Being Honest in a World That Lies…
"Some books change how you think.  Some change how you act.  Would I Lie to You? does both.  It's impacted how I talk to my friends, my colleagues, my family—and myself, and given me a fresh perspective on how important both larger and smaller truths are in our lives."
—KJ Dell'Antonia, editor New York Times Motherlode blog and author of How to Be a Happier Parent
 
"Would I Lie to You? is filled with so many fresh insights and proactive solutions that it could pass for a masterclass on honesty.  With a journalist's sharp eye and a deep appreciation for the complexities of human behavior, Judi Ketteler has created a compelling and necessary examination of the risks and rewords of fessing up.  If you've ever wondered what would happen if you said exactly what you were thinking—or simply stopped sugar-coating the truth—this book is for you."
—Camille Pagán, bestselling author of I'm Fine and Neither Are You

"Many people decry the prevalence of dishonesty in politics and society in general but fail to identify their own patterns of lying, says award-winning journalist Ketteler... Drawing on examples from her own life, philosophy, behavioral economics, and spirituality, Ketteler grapples with the question of honesty in social situations, the workplace, marriage, and parenting. In one particularly stimulating chapter, she tackles the topic of self-honesty—are we really who we say we are? Do our behaviors line up with our beliefs?
VERDICT: Great for generating discussion on the subject of authenticity and thinking through tough questions."
—Library Journal

Citadel, 9780806540085, 272pp.
Publication Date: December 31, 2019
About the Author
Judi Ketteler has written for dozens of publications such as The New York Times, Better Homes & Gardens, Good Housekeeping, Runner's World, Self, Women's Health, and many others. She's also an award-winning columnist for Cincinnati Magazine, where she writes pieces about the weirdness of midlife.
 
She is the author of Sew Retro: A Stylish History of the Sewing Revolution + 25 Vintage-Inspired Projects for the Modern Girl and The Spoonflower Handbook: A DIY Guide to Designing Fabric, Wallpaper & Gift Wrap.
 
When she's not writing, Judi loves running, yoga, and flea markets. She lives with her husband and two young children in Cincinnati, Ohio.
 
Learn more about Judi at www.judiketteler.com.