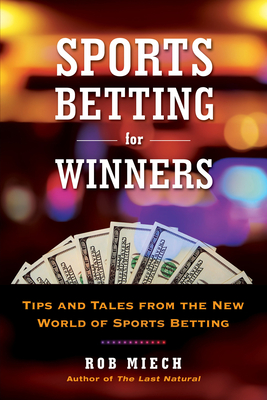 Sports Betting for Winners
Tips and Tales from the New World of Sports Betting
Paperback

* Individual store prices may vary.
Description
"Rob Miech has outdone himself with this poignant, behind-the-curtains revelation of a world of parlays and money-line wagers, of mob-ruled games, and characters named Lem and Lefty. The brilliant storyteller weaves insight from some of the world's most prominent names in sports betting into a historic, entertaining, and informative journey."
—Ed Graney, six-time Nevada sportswriter of the year for the Las Vegas Review-Journal
 
The legalization of sports wagering has increased the pot exponentially. But navigating the new systems can be tricky. If you're a newcomer ready to bet on sports as an occasional pastime, veteran sports writer and Las Vegas insider Rob Miech delivers a vital primer on terminology, options, and procedures. If you're already taking advantage of the sports betting world as a money-spinning career, he shares the latest approaches and all-new game-changing techniques by tapping the skills, secrets of success, and cautionary counsel of players on both sides of the counter.
 
With behind-the-scenes stories and no-holds-barred interviews with the legendary masters of betting, Sports Betting for Winners shows how, with the right information and a sprinkling of luck, you can capitalize on the numbers behind the numbers and take the bettor's game to the next level.
 
"Miech gives us the skinny on a billion-dollar business. I'll lay you 9-to-5 you'll feel richer for reading Sports Betting for Winners."
—Mike Downey, award-winning sports columnist, Chicago Tribune and Los Angeles Times
 
"A book on sports betting for everyone—entertaining, informative, anecdote-filled."
—Steve Rushin, author of Sting-Ray Afternoons and Nights in White Castle
Praise For Sports Betting for Winners: Tips and Tales from the New World of Sports Betting…
"Miech, a former sports writer for the Las Vegas Sun, had spent the last year following gamblers around Las Vegas, talking to oddsmakers, watching the daily yin and yang of the business. It all comes together beautifully."
—Gaming Today on Sports Betting for Winners
Citadel, 9780806540306, 272pp.
Publication Date: October 29, 2019
About the Author
Rob Miech (pronounced "Mish") has been a sportswriter for more than thirty years, having mostly written for the Pasadena Star-News, CBS SportsLine, and Las Vegas Sun. His work has also appeared in USA Today, The Washington Post, San Francisco Chronicle, and Basketball Times, among other publications. The Best American Sports Writing (2014 edition) highlighted his profile of former UCLA basketball player J.R. Henderson's longtime immersion into the culture of Japan and its pro hoops league.

Miech is the author of The Last Natural—a behind-the-scenes account of the 2010 junior-college baseball season that launched Bryce Harper to fame and fortune—which the magazine Spitball short-listed as a top baseball book of 2012. He also authored Eleventh Heaven—the story of UCLA's national hoops-title season of 1994-95, twenty years after the Bruins' glory run—and Of Cowards and True Men, the adventurous and dramatic life of controversial boxing trainer Kenny Adams.

A longtime resident of Las Vegas, Miech is intimate with the sports-betting arena, its characters and colors, its lexicon and nuances, and the various ways in which punters capitalize on their action. Visit him at on Twitter @robmiech or on Facebook