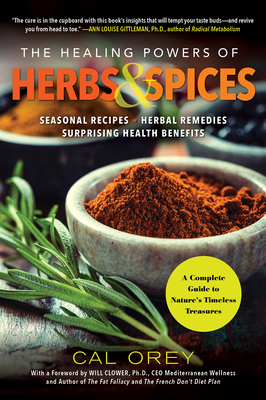 The Healing Powers of Herbs and Spices
A Complete Guide to Natures Timeless Treasures
Paperback

* Individual store prices may vary.
Description
Boost your immune system with antioxidants, lower your risk for the flu, cancer, diabetes, heart disease, and more—with ordinary everyday ingredients you can find at home—and make healthy green choices in today's fast-changing world!

Anise, bay leaf, garlic, parsley, turmeric, and more--for thousands of years, herbs and spices have been praised for preserving and flavoring food, as well as preventing and curing illnesses. The latest research reveals that the seasonings already in your pantry--or easily found fresh in your supermarket or garden--can lower your risk for cancer, heart disease, and obesity. This A-to-Z guide catalogues the most popular and versatile herbs and spices, drawn from the Mediterranean Diet but suitable for any diet plan. You will learn how to harness herbalism to heal your body and mind. Discover how to use nature's gifts including allspice, chives, fennel, oregano, pepper, tarragon, saffron, and special blends like Herbes de Provence to:

*Bring abundant zest to your table while lowering your cholesterol, balancing your blood sugar, and revving up your metabolism--at any age!

*Ward off colds and flu, banish a hacking cough, and even ease PMS or menopause woes, by adding tasty plant therapy to your favorite food or drink.

*Lessen your anxiety and boost your mood with aromatic natural ingredients found in dried and fresh flavorings.

*Soothe aches and pains without harmful side effects--and trigger feel-good endorphins--using sweet and savory garnishes, including edible flowers.

*Create in-home spa treatments using the same herbal potions featured at luxury spa resorts.

Caraway Breadsticks, anyone? How about Cilantro Lime Slaw, Herbal Greek Bean Soup, or Roasted Paprika Cornish Hens? With over 50 taste-tempting recipes, along with personal stories and fascinating historical anecdotes on medicinal uses dating back to biblical times, The Healing Powers of Herbs and Spices is your go-to guide to embracing limitless energy and healthy longevity while feasting on memorable meals full of aroma and deliciousness!

Includes 16 pages of color photos
Citadel, 9780806540481, 368pp.
Publication Date: December 29, 2020
About the Author
Cal Orey is an accomplished author and journalist. She has a master's degree in English from San Francisco State University, and for three decades has written hundreds of articles for national and international magazines. She specializes in topics such as health, beauty, nutrition, relationships, science, and pets. Her books include The Healing Powers of Olive Oil, The Healing Powers of Coffee, The Healing Powers of Honey, The Healing Powers of Chocolate, The Healing Powers of Vinegar, 202 Pets' Peeves, and Doctors' Orders. She lives in Northern California. Readers are invited to visit her website at calorey.com, read her blog The Writing Gourmet at calorey.blogspot.com, find her on Facebook, and follow her on Twitter.