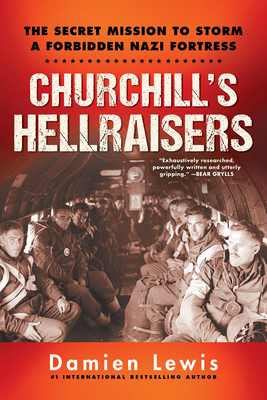 Churchill's Hellraisers
The Thrilling Secret WW2 Mission to Storm a Forbidden Nazi Fortress
Hardcover

* Individual store prices may vary.
Other Editions of This Title:
Compact Disc (8/25/2020)
Paperback (11/30/2021)
Description
Perfect for fans of Erik Larsen's The Splendid and Vile and Alex Kershaw's The Forgotten 500, #1 international bestselling and award-winning war reporter Damien Lewis' latest book details the thrilling account of one of the most daring raids of WWII—the untold story of the heroic hellraisers who stormed a Nazi fortress and helped turn the tide of the war. Bracingly tense, brilliantly researched, and truly unforgettable, Churchill's Hellraisers is a must-have for every World War II library.
 
It is the winter of 1944. Allied forces have succeeded in liberating most of Axis-occupied Italy—with one crucial exception: the Nazi headquarters north of the Gothic Line. Heavily guarded and surrounded by rugged terrain, the mountain fortress is nearly impenetrable. But British Prime Minister Winston Churchill is determined to drive a dagger into the "soft underbelly of Europe." The Allied's plan: drop two paratroopers into the mountains—and take the fortress by storm . . .
 
The two brave men knew the risks involved, so they recruited an equally fearless team: Italian resistance fighters, escaped POWs, downed US airmen, even a bagpipe-playing Scotsman known as "The Mad Piper." Some had little military training, but all were willing to fight to the death to defeat the Nazi enemy. Ultimately, the mission that began in broad daylight, in the enemy's line of fire, would end one of the darkest chapters in history—through the courage and conviction of the unsung heroes who dared the impossible . . .
 
"One of the most dangerous and effective attacks ever undertaken by this Regiment against the enemy."
—Lt Col Robert Walker‐Brown, MBE DSO, senior SAS commander
 
"Action-packed…Battleground history buffs will be entertained."
—Publishers Weekly
 
"A little-known behind-the-lines spectacular led by two heroic British officers. Successful niche military history for a popular audience."
—Kirkus Reviews
Praise For Churchill's Hellraisers: The Thrilling Secret WW2 Mission to Storm a Forbidden Nazi Fortress…
Praise for Churchill's Hellraisers

"A little-known behind-the-lines spectacular led by two heroic British officers.  Successful niche military history for a popular audience."
—Kirkus Reviews

"Military historian Lewis delivers an action-packed account of special operations missions against Nazi forces in Northern Italy during WWII…He sets a brisk pace and laces the narrative with colorful character sketches. Battleground history buffs will be entertained."
—Publishers Weekly

Praise for Damien Lewis's Churchill's Shadow Raiders

"Lewis presents a richly detailed and nail-biting tale. For readers who enjoy well-told history and scholars of World War II." 
—Library Journal

"This highly informative book almost reads like a genuine techno-thriller as the author describes the "wizard's war" between England and Germany over the use of radar in the air war during 1940–1942….The author does an excellent job of blending technology and action to tell the amazing true story of one of the most daring but almost unknown special operations of the war….Engaging and suspenseful…this book is a real page-turner, balancing the blend of describing electronic gadgetry and heroic adventure to bring to life one of World War II's most audacious special operations."
—New York Journal of Books

"Superb....Reads like an adventure novel and the reader may be excused in forgetting that it is a history book."
—SOFREP Military Grade Content

"Damien Lewis's book is an excellent account of raid's events but more important is how he tells the story. Rather than a dry recounting of the history of the Paras and the raid, Lewis recognizes tells this story as a human drama of daring and bravery. The personalities of the raiders and the challenges they faced makes this book highly readable and gives it a page-turning quality….One of the most readable World War 2 history books I have read in years"
—We Are the Mighty

"Scholarship and readability combine to intertwine the themes of radar technology, the growth of special operations, and the development of airborne forces….A work that reads like a thriller and tells a compelling story."
—Army University Press

"Anyone who wants to learn more about the origins of the British Special Forces should read this book.  It intertwines historical research and eyewitness testimony to tell the untold story of heroism, courage, and ingenuity."
—Military Press

Praise for Damien Lewis
 
"Intensely researched and powerfully written. One of the great untold stories of WWII."
—Bear Grylls on SAS Ghost Patrol
 
"You couldn't make these stories up, yet they're true, and Lewis does the memory of these extraordinary men full justice in a tale that is both heart-stopping and moving."
—Evening Standard on Hunting Hitler's Nukes
 
"A valuable addition to World War II history, and a harbinger of the sort of war that the United States and other countries are learning to wage in the 21st century."
—Washington Times on The Ministry of Ungentlemanly Warfare
 
"One of the most extraordinary stories of World War II . . . a Howitzer of a tale."
—The Daily Mail on The Ministry of Ungentlemanly Warfare
 
"An enjoyable, thought-provoking read."
—Soldier Magazine on The Ministry of Ungentlemanly Warfare
 
"A truly astonishing story."
—Weekend Sport on The Ministry of Ungentlemanly Warfare
 
"Takes us into into the heart of clandestine battles."
—Frederick Forsyth on Bloody Heroes
 
"A gripping story."
—General Sir Mike Jackson on Bloody Heroes
 
"Suspensful and well-written . . . vividly recounts the soldier's fatigue, stress and fear." —Kirkus Reviews on Zero Six Bravo
Citadel, 9780806540740, 416pp.
Publication Date: August 25, 2020
About the Author
Damien Lewis is an award-winning historian, war reporter, and bestselling author. He spent over two decades reporting from war, disaster, and conflict zones around the world, winning numerous awards. He has written more than a dozen books about WWII, including The Ministry for Ungentlemanly Warfare, The Dog Who Could Fly, SAS Ghost Patrol, and The Nazi Hunters. His work has been published in over forty languages, and many of his books have been made, or are being developed as feature films, TV series, or as plays for the stage.